Conclusion of Mutoma Primary School Rainwater Harvesting Project – Kenya
This project has been completed under the direction of Peace Corps Volunteer Alyssa McDermott. To read about the beginning of the project, CLICK HERE.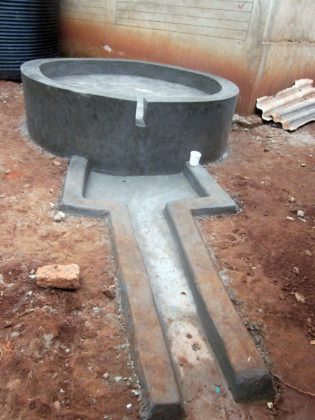 The project was to build a rainwater harvesting system at the school.
Alyssa reports:
The Mutoma Primary water project has been successfully completed without any complications. The total time it took for construction was about three weeks. This was because we had to put the project on hold for one week while the students were doing exams.

With the help of the community, we got the supplies and transport of supplies at a reduced price, which was economical to our budget.

The cement base for the tank was built in one week, and the builder was creative and extended the rim of the base to protect the tank from being removed. After this was completed the tank arrived and with the help of many students we carried the tank together to place on top of base. It was fulfilling seeing everyone work together.

The gutters were then attached, along with the pipe connecting to the tank.

The primary students were very happy they would now have water and would no longer have to carry water each day to school.

The teachers at the school were also extremely helpful. We were short a small amount of money and the teachers willingly contributed because they were happy to also benefit from the project.

The primary principal was the backbone of the whole project, supporting and advising me through the process. He and the board members of the school expressed their gratitude to Water Charity for giving them the opportunity to have access to clean drinking water, especially for the students.

Water Charity has given me this chance, again, to help the members of my community and I am very grateful. Watching the people of this community work together to accomplish a goal that I am the catalyst for is an overwhelming feeling.

Thank you so much. In Kiswahili we would say, "Asante Sana."
We are grateful to Alyssa for completing this excellent project.