Conclusion of Mother Teresa School Bathroom Project – Albania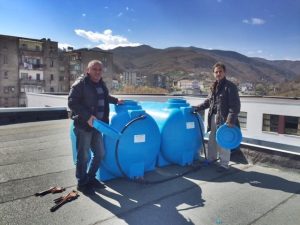 This project has been completed under the direction of Peace Corps Volunteer Pier Vernaza as part of our 100 Water Projects Program – Albania, as well as our larger Let Girls Learn Initiative – Worldwide.
To read about the start of the project, CLICK HERE.
Pier reports:
The bathroom project has been completed.

The workers of the Municipality replaced all the old sewer pipes, air pipes, faucets, and Turkish toilets, installed the western toilets at the girl's bathrooms, and placed new tiles at each toilet area in all the 18 toilets. Also, they installed the two doors in the boy's bathrooms, and the cisterns on the roof of the school's building.

I worked with my counterpart Bledi in preparing the video, fliers, and posters for the opening event for the bathrooms that took place on the week of April 6, 2015. We invited the Mayor of Rreshen.

To see the video, CLICK HERE.
Also, during the opening event week, we started the Glitter Hand Wash class that a nurse will offer to the younger students of Mother Teresa School. I will continue to give these classes on my own time as a reminder until these hygiene values ingrain in the minds of the students. It is incredible, that something so simple and commonsense behavior–for us–it is CRUCIAL to teach to children and even older teenagers. Cultures are a huge difference.

The Mayor of Rreshen Ndrec Dedaj, the entire community, the students, the Director of the School Nora Kaçorri, the cleaning ladies, the security and all the teachers are DEEPLY HAPPY AND GRATEFUL!! for your DONATIONS to improve the lifestyles of the girls and boys of this school.
We at Water Charity, in turn, express our gratitude to Pier for completing this project and extend our heartfelt thanks to a long-time supporter of Water Charity Wilco Krul for his extreme generosity.