Conclusion of Mhepai Primary School Rainwater Catchment Project – Tanzania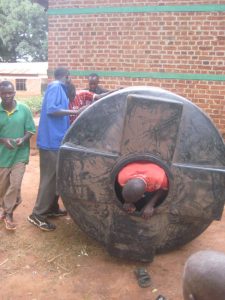 This project has been completed under the direction of Peace Corps Volunteer Lee Myers-White.
To read about the beginning of the project, CLICK HERE.
The project was to build a rainwater catchment system at the primary school.
Lee reports:
The rainwater catchment system for the Mhepai Primary School was successfully completed.

First, the bricks to create the stand for the tank were donated by the community and transported to the site by the primary school students.

The mason and the carpenter went to work on building both the gutter system and the stand. The stand was built from bricks and an outer layer of cement was applied.

The school organized for the 3,000 liter water tank to be transported from town to the village and placed on the stand. The gutters were connected to the tank to complete project.

All work was finished in a timely and efficient manner according to plan.

This project will provided the 475 primary school students with reliable and convenient access to water during the dry season for use in the bathrooms and also around school grounds for watering and garden projects.

The community and school of Mhepai would like to send their sincere gratitude to everyone who contributed to make this project possible. Thanks you.
We would like to thank Lee for completing this important project, and again extend our thanks to his family and friends of providing the funding.