Conclusion of Mbowen Women's Garden Water Project – Senegal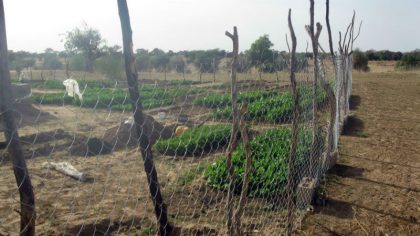 This project has been completed under the direction of Peace Corps Volunteer Kimberly Hall. To read about the beginning of the project, CLICK HERE.
The project was to build a functional water storage facility to use for the irrigation of the women's garden.
Kimberly reports:
The Mbowen club officers and I started with a meeting for the rest of the Mbowen women to discuss project details and the way in which garden construction would be carried out.

The next step was to build a fence for the garden with money that the women had previously collected. The club president purchased the chain-link fencing and had it transported to garden site. The women then collected wood posts to place intermittently along the perimeter of the fence area.

Following fence construction, the mason began building the water basin using project funds. He first dug out a small plot of land to make the basin lower to the ground and more accessible for the women.

After this initial construction day, the mason ordered the cement and iron for basin as well as the water hose. Once the materials arrived, the mason and a few other workers mixed the cement and started to build the water basin.

Meanwhile, during the construction process, the women's group officers and I traveled to the regional capital, Linguere, for a garden training led by a Peace Corps' official. The training went extremely well. A variety of topics were covered including double-digging, soil amendments, watering, seeding, spacing, natural pesticides, and seed storage. The women were so enthusiastic and excited about the training in general.

With the completion of water basin construction and garden training, the garden project was finally ready to commence. The women filled the basin for the first time and held a garden training for the rest of the Mbowen women. They recalled the gardening techniques they learned during the training and re-taught the group.

I lent them my pickax and shovel, and for the next week, women were continuously digging their garden plots. After a week, the garden was completely up and running.

The women's group officers are responsible for taking care of the garden on a day-to-day basis, filling the basin, making sure the garden remains locked during the day, and maintaining the garden supplies.

This has been the most satisfying project I have been a part of in my service as a Peace Corps Volunteer. The women were motivated and took complete charge of their garden. It was such a great feeling to start a project and see the community take it and run with it, which is exactly what happened.

Needless to say, the women were extremely appreciative for the financing of the garden and wanted me to convey their gratitude to all the generous donors. Thank you so much.
We again thank the Elmo Foundation for providing the funding for the project.