Mbazwana Primary School Sanitation Project – South Africa
Location
Mbazwana, Kwa Zulu Natal, South Africa
Community Description
Mbazwana is located very near Sodwana Bay, a diving destination and a developing tourist area. Tourism does not yet provide jobs and work security to those living there, and most people are forced to leave to get work elsewhere.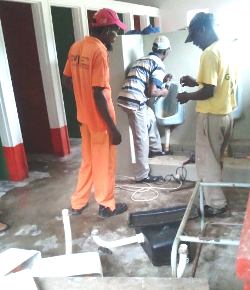 Mbazwana Primary School has 1,200 primary learners at 2 locations, the main campus and a second that handles preschoolers. Many of the learners at the school are in extended families or with grandparents.
The school has a good reputation in the community. Its sports field is used for various sports league activities and its classrooms are rented to outside groups.
The school is well-organized, with the involvement of the administration, the community school board, and parents. However, the classrooms are overcrowded, educators have inadequate teaching materials, and funds do not exist to initiate any changes.
Problem Addressed
Forty flushing toilets were installed in the school about 7 years ago. Because there have been no repairs and little maintenance, compounded by the fact that students were never trained in their use, they have fallen into disrepair and must be replaced.
Project Description
This project is to install 20 toilets and 8 sinks in 4 toilet units at the school.
Bowls, seats, and new flushing components will be installed. Sewer pipes and supply lines will be installed and replaced as needed. New sinks will be installed for hand washing after using the toilets.
Water Charity funds will be used to purchase the fixtures and materials and to pay for the labor of skilled technicians.
This project is a part of a larger project, which includes hygiene and sanitation training for educators and students, and will serve as a model to be adopted by other schools in the area.
Project Impact
The school community of 1,200 learners, 34 educators, 1 principal, 2 vice principals, and 5 community school board members, will benefit from the project. Parents and caregivers, as well as members of sports leagues and outside community groups, will also benefit.
Peace Corps Volunteer Directing Project
Susan Goodson Fatherree
Comments
Susan previously served as a Peace Corps Volunteer in Thailand, where she completed the Ban Nongkad School Kitchen Project – Thailand.
As a Peace Corps Volunteer in South Africa, Susan completed the Mbazwana Primary School Water Project – South Africa.
The new facilities and training will result in a change of attitude toward sanitation and hygiene, thereby improving the health and wellbeing of all who attend and visit the school.
Dollar Amount of Project
$700.00
Donations Collected to Date
$700.00
Dollar Amount Needed
$0.00 – This project has been fully funded through the generosity of Alan Pollard, of Tenafly, NJ, USA.
Any contributions in excess of the Dollar Amount of the Project will be allocated to other projects directed by this PCV and/or projects of other PCVs in this country.

This project has been completed.  To see the results, CLICK HERE.