Conclusion of Maleme Niani Women's Garden Water Project – Senegal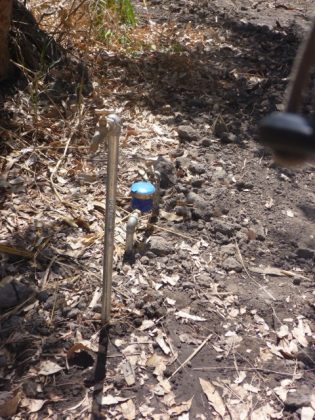 This project has been completed under the direction of Peace Corps Volunteer Nicolette Ulrich. To read about the beginning of the project, CLICK HERE.
The project was to provide water for the irrigation of the women's garden.
Nicolette reports:
I wanted to give you the summary of my project in Maleme Niani. It was a roller coaster of emotion, but it is done and the water is running.

Once the money was received, we immediately started working. We employed 3 workers from Maleme Niani. The work was long and hard, but happened quickly. I was amazed at the motivation and determination the people of Maleme Niani showed to me during the process.

Once the trench (300 meters long) was dug, our mayor, Souelyman Gory, organized the buying and transportation of all the materials. We purchased everything we would need from the closest regional capital, Tamabacounda (70k away).

When all the pipes and hardware arrived, within 4 days it was laid out and the water was turned on. The day after the water ran out to the gardening site, the women of Maleme Niani went out and started splitting up the land to begin their own gardens.

It was inspiring and so warming to see them all so excited to now have a water source where they could control and manage their own gardening space. I was so proud to have facilitated this project, but could not have done it without Water Charity funding.

Thank you so much for all you help and support. The work Water Charity does is amazing, and the long term benefits cannot be expressed.

We, in turn, are grateful to Nicolette for the timely completion of this excellent project, and the excellent resource it has contributed to the community. We are also grateful to the Elmo Foundation for providing the major funding for the project.