Conclusion of Magunga Township Secondary School Rainwater Harvesting Project – Kenya
This project has been completed under the direction of Peace Corps Volunteer Margaret Guin.
To read about the beginning of the project, CLICK HERE.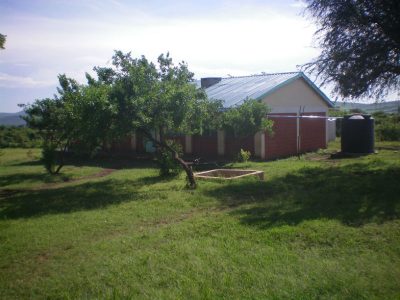 The project was to build a rainwater harvesting system to provide water for drinking and irrigation of the school's crops and trees.
Margaret reports:
The project was completed by three local fundis.

The 5,000 liter tank and the materials were bought and delivered from Kisi by one of my BOG members, and the fundis got to work right away, digging and building the platform.

Then, they carefully installed the gutters to the front and the rear of the building. We had budgetary problems, but we resolved them by installing more economical metal gutters.

Finally, a small enclosure was built below the tap to catch and preserve any water that might spill, to reduce wastage.

Since its completion the school has been able to become self-sufficient as far as water usage. No more buying water from the village borehole a few kilometers away and lugging it back to school.

The students and staff now have sufficient water to maintain the handwashing station, kitchen use, and, of course, water for drinking.

Thank you so much for your assistance.
We are grateful to Margaret for completing this important project.