Conclusion of Liceul Teoretic Stefan Cel Mare Bathroom Project – Moldova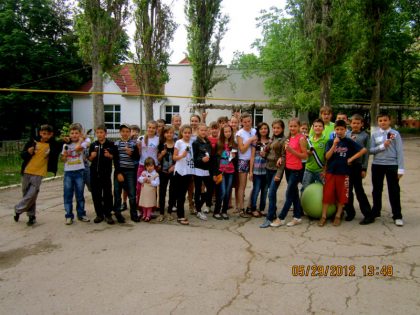 This project has been completed under the direction of Peace Corps Volunteer Katie Hiebert. To read about the beginning of the project, CLICK HERE.
The project was to renovate and upgrade the two bathrooms at the Stefan Cel Mare School.
Katie reports:
The action plan was drawn up by my partner, the town engineer, and me. With the plan in place, we were able to call on volunteer builders and various men in construction to volunteer their time and tools to help work on the bathroom. This took time, of course, as people are very rarely able to work with little to no pay. It was a great testimony to their spirit and pride in their town.

Actions were then taken to produce the materials for the projects. I accompanied the town engineer to the store and purchased the materials.

The following week, the engineer and I drove to the capital city to buy whatever additional materials were needed, and bring them to the school.

The building then began, and over the next 8 weeks, the sinks, tiling and pipe were taken out and replaced, and the soap dispensers installed and filled. Students used the exterior outhouses while work was being done. It was a rather simple installation, and there were few difficulties that were met.

Upon completing the project, a Health Education Peace Corps Volunteer and I, along with the help of our school's homeroom teachers, led a school-wide seminar on the importance of hand washing and keeping ourselves and our surroundings clean. Fun was had all around, and we brought ice cream (with donations from the family in the US) for everyone at the end of the day to celebrate.
We are grateful to Katie for completing this project, and again extend our thanks to her friends and family for providing the funds for this project, plus additional money for other projects in Moldova.