Leova Jail Improvement Project – Moldova
Location
Leova, Moldova
Community Description
Leova is located 100 kilometers south of Chisinau, the capital of Republica Moldova. The city is located along the river Prut which divides Republica Moldova and Romania.
Moldova has 40 Raions, or administrative divisions. The city of Leova is also the Raion Center of the Raion of Leova. The Raion, one of the largest in Moldova, has a population of approximately 51,770 people in 2 cities and 36 villages.
Leova's production sectors are:
Industrial – there is a winery in the city;
Agriculture – producing wheat, corn, various berries, sunflowers, pumpkins and watermelons;
Animal Husbandry – including cows, pigs, sheep and goats.
The Jail at the Police Station in Leova serves the whole Raion of Leova. It is in deplorable condition and is unfit to house those who are in the penal system.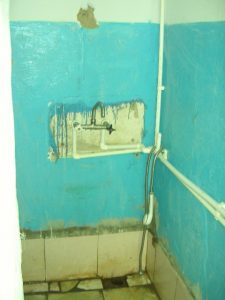 Leova is a relatively safe Raion. Most crimes committed are thefts, physical assault, fraud and robberies. Some of these crimes are as a result of alcohol abuse by the offenders. Some are committed by the younger population who are unemployed.
The jail is meant to be utilized to house those citizens who are awaiting trial for their alleged crimes. The conditions are such that, at this present time, inmates are not housed there for a long period of time and have to be transported back and forth each day to the city of Cahul, 70 kilometers to the south.
The Jail was constructed in 1986 and no repairs or improvements have been done on the lock-up facilities since then. There are no kitchen facilities with running water to prepare meals for inmates and the sanitary conditions are not up to code.
Project Description
This project will provide the Jail with running water in the kitchen, repair the shower, and provide proper toilet facilities.
Project Impact
The project will benefit 45 inmates at a time. As the typical stay of each inmate is short, a conservative estimate would be that 450 inmates will be served in the average year.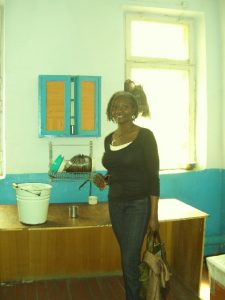 Peace Corps Volunteer Directing Project
Comments
This project provides water for inmates, who represent an unserved portion of the often-overlooked service sector of Leova. It will not only improve the hygiene and sanitation of the facility, but will also make the criminal justice system more efficient.
Dollar Amount of Project
$500.00
Donations Collected to Date
$50.00
ADOPT THIS PROJECT BY CONTRIBUTING THE DOLLAR AMOUNT NEEDED BELOW
Donations of any amount will be appreciated. The full amount will give you "naming rights", if that is something you would like.
Any contributions in excess of the Dollar Amount of the Project will be allocated to other projects directed by this PCV and/or projects of other PCVs in this country.
Dollar Amount Needed
$450.00

This project has been finished. To read about the conclusion of the project, CLICK HERE.