Conclusion of Rancheria Salanueva Water Project – Mexico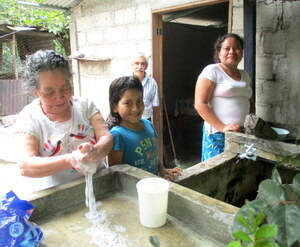 Completion of the Water System for the residents of Rancheria Salanueva
The people in Salanueva are planning a big celebration to inaugurate the newly completed water system, as is the custom in the Sierra Madre. Now that they know their water supply is secure, they are relieved that they no longer have to worry about how they will get by during the 7 months of the long dry season. The coffee farmers among them now enjoy the certainty that they will be able to properly maintain the new plants they are growing in their nurseries for transplanting next spring. The community leaders have long wanted to plant shade trees in their schools, cemetery and other spaces to beautify their community and create respite from the intense heat. They are delighted that they will be able to maintain the shade trees we've provided for their communal spaces once the rainy season ends.
The work to bring water to the community got off to a slow start when the pandemic slowed down manufacturing and commerce in Chiapas. The factory that produces the hose cut production dramatically, causing a backlog and a long delay until hose was available. Fortunately we were able to obtain the materials needed and deliver them to the community.
The men opted to build their holding tank before installing the hose in order to be able to store the large amount of water that would come from the deep pool at the source. Once that was built it was only a matter of days with the men and youth working together to install the two and a half kilometers of hose and bury it along its course to protect it. Now that the water is reaching all of the homes, we've been told to prepare ourselves for that celebratory feast. The leader of the water committee sent a heartfelt message of thanks to all who made this important improvement in their lives possible. They are especially grateful to Michael and Carla Boyle for their generosity. They send their gratitude to Water Charity.
To read about the beginning of this project, CLICK HERE.