CABIOCHI Water Project – Mexico
This project is made possible through the partnership of WATER CHARITY and the NATIONAL PEACE CORPS ASSOCIATION.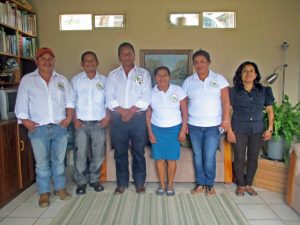 Location
Chiapas, Mexico
Community and Problem Addressed
The life of a small-scale coffee grower is a life of poverty
On the steep mountain slopes of the Sierra Madre of Chiapas, thousands of small-scale farmers produce the exceptional coffees that importers are always looking for. While this valuable commodity may be traded far away on the New York Stock Exchange, the survival of the cafetaleros, peasant coffee farmers, depends on factors beyond their control.
Coffee production can be a heartbreaking enterprise. The plants are vulnerable to bad weather such that a couple of days of strong wind or an unseasonable rainstorm can strip immature beans from the trees in a few hours. The price they receive from year to year depends on geopolitical and economic forces originating far from where coffee is grown that impact exchange rates and commodity prices. Farmers assume large debt to cover the cost of production and harvest, so in years when prices are depressed or the yield is low, they end up in the red at the end of the harvest.
For the average cafetalero, farming has never afforded them more than an impoverished quality of life but recent years have been especially difficult Rising temperatures have allowed the roya pest to proliferate at elevations where it did not thrive before. Roya has devastated coffee farms throughout Chiapas and neighboring Guatemala, depressing local economies for several years, causing small businesses to close and forcing more people to seek work as undocumented laborers in the United States.
https://youtu.be/ntTczcNz768
Joining a cooperative is the best strategy for poor farmers
Moving coffee from the farm through all the steps leading to exportation is complicated. The best way for poor farmers to maximize their chances of obtaining a better price is to participate in a cooperative organization that can negotiate contracts on their behalf. If the cooperative is well organized and forward-thinking, it can obtain government grants earmarked for rural development in the coffee sector.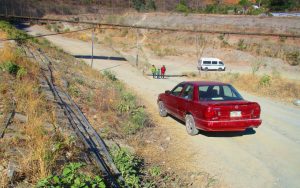 Five years ago, CABIOCHI, Cafetaleros de la Biodiversidad de Chiapas S. C., was formed and now includes members from over 16 communities. Many of these communities have benefited from water projects already completed as part of the Sierra Madre Water Program and several are on the waiting list for help to have access to potable water. Among these are the remote communities of Bremen, San Juan Calera, Via Hermosa, Ejido de Ojo de Agua, Victoria, Checute, Berriozabal, Hermocillo, Ejido Bandera Agentina, Ejido Cipresal, Los Lagos, Agua Prieta, Buena Vista, 20 de Abril, and Niquivil.
This year CABIOCHI is working to obtain organic certification which will give them access to the Specialty Coffee Market with buyers who pay premiums for organic gourmet quality. The most important strategy for acquiring and retaining loyal buyers is to maintain vigorous plants on well-managed farms that produce the highest quality beans they are willing to pay well for.
CABIOCHI's Nursery Project
Under normal conditions, every year farmers replace unproductive coffee plants with new seedlings to keep yields strong. It takes several years for the new plants to mature and start bearing coffee so this work must be done in a timely manner. Now with so much damage to the trees from roya, it is urgent that they replace a larger portion of their plants with resistant varieties if they are to be able to recover from the losses. But the cost of acquiring seedlings is prohibitive, especially now that they have had several bad years with very little income.
Four years ago, CABIOCHI began producing seedlings for its members on a large lot they rent for their nursery in Barrio Xelaju Chico on the outskirts of Motozintla, the largest city in the region. This year they received major funding to significantly expand the nursery from SAGARPA, Secretaria de Agricultura, Ganadaria, Desarollo Rural, Pesca y Alimentacion, the federal agency of the Mexican government responsible for rural development. While they were awarded funding to produce 100,000 plants, CABIOCI has managed to double the capacity to 200,000 through the wise management of those resources.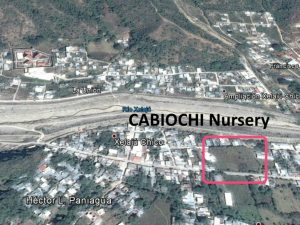 Project Description
This project is to complete the irrigation system for a nursery that will produce coffee plant seedlings. The plants will be distributed to 398 small scale coffee farming families to empower them to improve their household economies.
To get the nursery going four years ago, they installed 2.5 kilometers of 2″ hose to bring water from a perennial stream for irrigation. The hose that was installed was not new, so some sections now need to be replaced. In addition, the line needs to be extended to reach a better point for uptake where they have just acquired the water rights.
A catchment dam at the source will be built and the newly dug holding pond at their facility reinforced. It is expected that this upgrade will create a system that will serve for decades to come.
Project Impact
The organization has 398 members, each representing a multi-generational family of an average of 6 or more members. A conservative estimate is that 2,400 people will benefit. The nursery project employs 40 people who provide the labor on site. Farmers who are members of CABIOCHI will receive the plants free of charge.
As CABIOCHI gains a reputation for providing consistently exceptional quality coffee, the benefits in terms of acquiring more favorable terms for export are significant. The organization continues to grow as they reach out to more farmers in other communities.
Project Managers
The project will be administered by Tamara Brennan, Ph.D. and Francisco Barrios, of The Sexto Sol Center for Community Action, an award-winning non-profit that has had a permanent presence in the region since 1997.
In addition to experience with working with communities to create potable water systems, Sexto Sol has 20 years of experience assisting small-scale coffee farmers seeking to obtain a better price for their coffee.
CABIOCHI was founded by Isac Ventura who has played a significant role in the Sierra Madre Water Program by facilitating partnerships with communities in need of potable water and the Sexto Sol Center.
Monitoring and Maintenance
The managers of CABIOCHI will monitor and maintain the system. Sexto Sol will periodically check to ascertain that the system is functioning properly.
Comments
This project is the 11th water system project in the ongoing Sierra Madre Water Program, a comprehensive effort to improve water access in the underserved and impoverished Sierra Madre de Chiapas region of Mexico, spanning the border with Guatemala.
In addition, Tamara Brennan, Ph.D., Sexto Sol's Executive Director, will provide capacity building to help people better manage their domestic water. This will include preventing wastewater from pooling on the ground where animals consume it and become ill. With simple changes, usable gray water can be directed into edible plants. She will also provide a demonstration on how to recycle plastic into useful items as a strategy to keep it out of the watershed and prevent contamination of the environment.
This project has been funded through the generosity of the Paul Bechtner Foundation.