Conclusion of Menor Chijnaya Health Post Water Project – Peru
This project has been completed under the direction of Returned Peace Corps Volunteers Kimmy Mazza, and Ralph Bolton, Ph.D., working with ProDIA, their Peruvian counterpart. To read about the start of the project, CLICK HERE.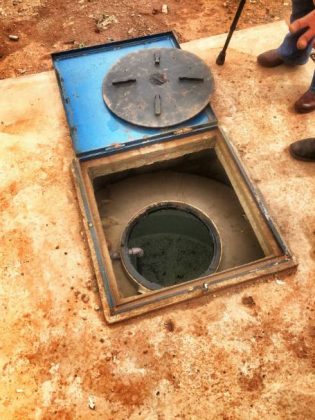 The project was designed to guarantee an adequate supply of safe water to the health post by installing an automatic pump, an additional storage tank, and a piping system.
Ground staff reports:
The Menor de Chijnaya Health Post Water Project was completed successfully and the health post of Menor de Chijnaya now has a secure supply of water 24 hours a day. The project was originally designed and implemented by a previous scholarship recipient of a scholarship provided by The Chijnaya Foundation and its Peruvian operational arm Pro DIA, who had graduated with a degree in civil engineering. The engineer worked with community members to first do the excavation required for the below-ground water tank and for the piping to connect the new tank to the town's water distribution system.

Once a cement structure was constructed for the below-ground water tank, an automatic pump was installed to pump the water to an elevated plastic tank on top of the bathroom facilities that supply water to both the bathroom and the entire health post. An engineer and a construction specialist came to the health post after the project was completed to check the automated pumping connection and perform maintenance to ensure the pumping system was working at 100%.

Once construction was completed, the new system was inaugurated during a small meeting in the health post with the nurse who runs the facility and local authorities. Everyone expressed their gratitude for the project. A secure supply of water 24 hours a day is a major improvement for the health post and helps them provide better services to the community.
We extend our thanks to The Chijnaya Foundation and ProDIA for completing this important project.