Conclusion of Llicllica Water Tank Project – Peru
This project has been completed under the administration of Ralph Bolton, Returned Peace Corps Volunteer (Peru,'62-'65), and founder and director of The Chijnaya Foundation. Work was done under the direction of Chijnaya's operational arm, Asociación Pro-DIA, a legally-constituted Peruvian counterpart. On-the-ground work was managed by Kimmy Mazza, Returned Peace Corps Volunteer (Peru,'16-'18). To read about the start of the project, CLICK HERE.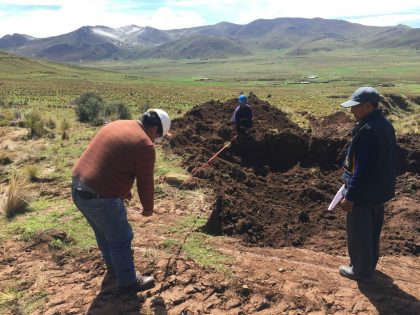 The project was designed to guarantee a supply of safe drinking water to the entire community by constructing a cement storage tank connected to a new water source.
Kimmy reports:
After many months of planning and hard work, the Llicllica Water Tank Project has been completed and the community now has running water in their homes. The project would not have been possible without the help of the community. Community members provided the extensive labor required to pour concrete and excavate the ditches to install the piping for the water distribution system.

The head contractors made the metal and wood frames for the water tank and the entire community came together to fill the frame with concrete. Because there is a lack of heavy machinery to pour the concrete, community members used a mixer to make the cement and then filled buckets with the cement, which were then used to fill the structure. The whole process took about four hours.

Once construction was completed, engineers from the municipality gave a training on how to properly clean and disinfect the system and the community put into practice what they had learned by cleaning and disinfecting the new system.

After that, the new water tank was inaugurated with a ceremony with the entire community, members of the NGO Pro DIA, and the district mayor of Choquehuanca. The tradition for inaugurating a new structure involves hanging a bottle of champagne over the structure and then breaking it to bathe both the structure and earth in champagne. After the champagne was broken, we celebrated the project with a delicious lunch!

The community is extremely grateful for this project. They have suffered from a lack of running water for most of their lives, so they are happy beyond words to have running water in their homes. They will no longer have to carry water long distances or drink water from contaminated sources.
We extend our thanks to Kimmy for completing this important project.