Conclusion of Angara Bajo Irrigation Project – Peru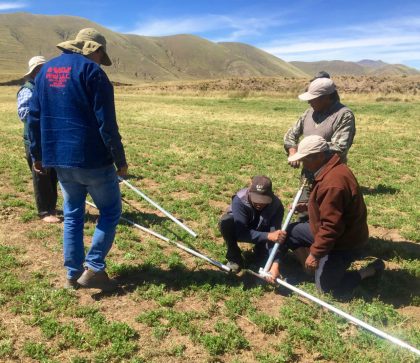 This project has been completed under the direction of RPCV Ralph Bolton, founder, and director of The Chijnaya Foundation, under the direction of Chijnaya's operational arm, Asociación Pro-DIA, its Peruvian counterpart, and managed by RPCV Kimmy Mazza.
To read about the start of the project, CLICK HERE.
The project was designed to provide an effective irrigation system to improve agriculture and pasture growth to improve the economy of the community.
Kimmy reports:
The Angará Bajo Irrigation System Project was completed successfully and 12 families now have access to high-quality sprinkler irrigation systems.

The first 12 benefiting families were chosen based on an agreed-upon criteria including having a fuel-powered pump, access to a sufficient water source, and existing alfalfa crops that can be irrigated in the dry season months.

The Chijnaya Foundation rotating fund model was used in this project so that in the coming years more families will be able to buy these sprinkler irrigation systems using the growing community fund.

The irrigation system manufacturing company, RAESA SAC, transported the materials to the community and also trained the participants on the proper operation and maintenance of the system. During the training, community members installed a fully functioning irrigation system connected to a fuel-powered pump. They were able to try different pumps and sprinkler heads to find the ideal combination to fit each person's needs.

The community members are really excited about their new irrigation systems and are extremely grateful for the project and support from Water Charity and its donors. The dry season is quickly approaching and this project will allow families to irrigate alfalfa crops throughout the dry season, which will improve the nutrition and therefore milk production of their cattle. This project was a major step in improving the economic activities of Angará Bajo.
We extend our thanks to Kimmy and the team for completing this important project.