Lahokgrasang Community Forest Bathroom Project – Thailand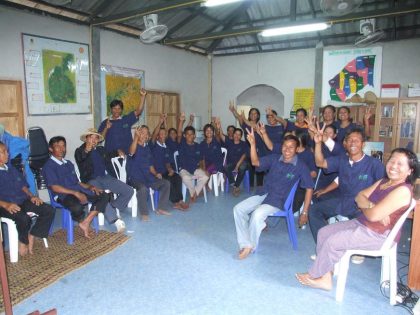 Location
Lahokrasang community forest, Moo 8, Tambon Khaokok, Amphur Prakonchai, Buri Ram Province, Thailand
Community Description
In the driest Northeastern region of Thailand, known as Isaan, is nestled a village named Lahokgrasang. This is rice farming territory and during the rainy season, the emerald fields stretch on for miles around. Thirty years ago, due to poor forestry practices, most of Thailand's forests were cleared.
Isaan was especially deforested, despite villagers protests against massive logging. Many of Lahokgrasang village's 60 households were part of these protests, over the past 14 years growing from 38 to 138 members as the Kaokok Forest Conservation Group. Although many of their largest trees were taken, enough of the forest — 1,080 acres — was spared to continue today as Lahokgrasang Community Forest.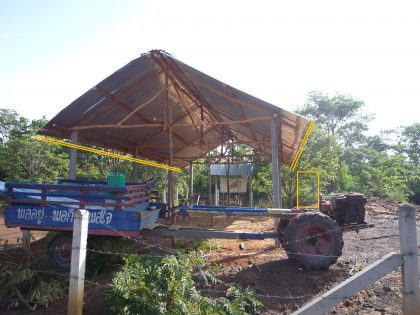 Throughout the years, villagers have maintained the forest, making sure it is protected from encroachment, erosion, and fires. Hundreds of community members each year – an average of 30-40 people every day – use the forest to collect food, such as multiple species of mushrooms and the edible dork ga jiao flower.
For jasmine rice farmers, who constitute the vast majority of community members, the forest provides a significant amount of food in addition to supporting wildlife, decreasing erosion and reducing global warming through removing carbon dioxide from the air.
The average Kaokok rice farmer earns a yearly income of 25,000 baht ($820 USD), making forest products an essential source of nutrition. Lahokgrasang forest managers are not the only people using the forest: hundreds of the surrounding villagers – a total population of 9,928 residents in the sub-district — also come to the forest to learn and forage.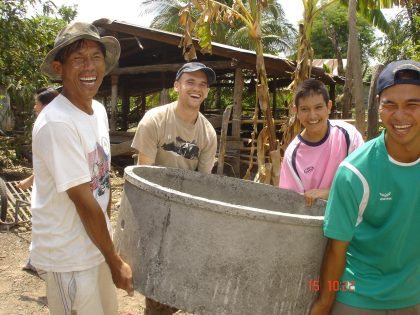 Since the group formed in 1997, the Forest Conservation Group has hosted 2,800 students and visitors to the Lahokgrasang Community Forest in an effort to teach the importance of ecological forest management and how communities can start their own community forests. 250 visitors have come to learn this year alone! However, the ability to host meetings, camps and tours is reaching its limit due to lack of bathroom and water facilities.
Without a bathroom, current events are limited to very short time frames, no more than a couple hours. With water faucets and bathrooms, meetings will extend throughout the entire day and multiple-day camps for children can be held to teach environmental stewardship and pass on local knowledge of medicinal and edible plants.
Project Description
Lahokgrasang village's Forest Conservation Group will build a two-stall bathroom facility with water faucets at the entrance to the Lahokrasang Community Forest.
An open-air meeting hall "sala" was constructed in 2011 to host meetings and camps. The bathroom facilities will be constructed adjacent to this meeting sala on the western side.
Conservation Group members will do all the construction themselves within the one-month timeframe. Materials will be purchased from local sources where possible. Water hookups will be connected to a large earthen catchment for rainwater collection.
The bathroom structure will consist of a small rectangular building composed of 300 cement bricks. The cement structure will be divided by a bisecting wall into 2 separate stalls for each men and women. Each stall will be 1.5 meters by 0.75 meters, making the entire bathroom facility 3 m x 1.5 m, and 2 m tall. The completed cement brick structure will be covered in plaster and painted white. Corrugated metal will be used as roofing material.
The interior of the bathroom stalls will also be plaster over brick. A traditional "squat" toilet will be used in each, accompanied by a brick-and-plastered basin to hold water used for flushing with a bucket. This method of flushing is very common throughout Thailand, especially in the Isaan region.
Each of the two basins (one in each stall) will receive its water from two large earthen rainwater catchment jars. Rainwater will flow through plastic PVC piping from these 1,000-liter jars and be connected to the bathroom with faucets.
The bathroom will feature 3 faucets: one to fill each of the basins used for flushing, as well as one faucet on the exterior of the bathroom to be used for handwashing. This faucet will be placed at hand level. No sink will be necessary for this handwashing station.
Rainwater will be fed to the catchment jars by two 6-meter gutters attached to the metal roof of the Study Point "sala." The rainwater will pass through mesh netting to filter out debris before entering the jars. This water will not be used for drinking but solely for flushing and hand-washing purposes.
Wastewater from flushing will be managed in the traditional Thai method but with an environmentally-friendly alteration. 200 cement bricks will be used to create an underground septic-like tank to hold wastewater and human wastes. This waste will be composted to safeguard the ecosystem of the forest. Twice or three times each year (as needed), the septic-like tank will be emptied and cleaned and the waste collected for composting at a composting site located just outside the community forest.
Project Impact
This project will benefit 720 people per year, including 340 food foragers, 80 conservation group members, and 300 study group members.
Peace Corps Volunteer Directing Project
Kale Roberts
Comments
Through securing local food sources, training village youth on self-reliance and traditional wisdom, promoting sustainable forest management, and hosting important carbon sequestration data, Kaokok Forest Conservation Group continues to provide an innovative and dynamic fight against biodiversity loss and climate change while providing modest economic gains to hundreds of community members who directly benefit from the 1,080 hectares of teak, dipterocarp, butterflies, birds, streams and clay-rich red earth they have worked so hard to save.
Dollar Amount of Project
$526.00
Donations Collected to Date
$526.00
Dollar Amount Needed
$0.00 – This project has been fully funded through the generosity of Joe Nowak of Microfarm, Dassow, Germany.
We encourage others to continue to donate using the Donate button below, and we will notify Peace Corps Volunteer Kale Roberts of your donation. Additional funds will be used to fund the next project by Kale and/or those of other PCVs in the country of service.
This project has been finished. To read about the conclusion of the project, CLICK HERE.