Conclusion of La Trinidad National High School Water Tank Project – Philippines
This project has been completed under the direction of Peace Corps Volunteer Steven Klimberg. To read about the beginning of the project, CLICK HERE.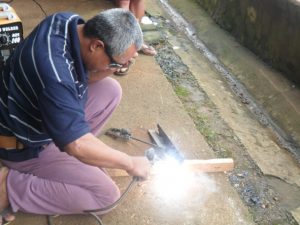 The project was to build a water tank for the school, to be used to supply the teaching kitchen and the bathrooms.
Steven reports:
The local Rotary Club helped with the project planning and implementation. The project was completed according to plan, and is now serving the needs of the school.

We bought the supplies and tank at a discounted price from a hardware store owned by a Rotarian. We then had to wait for the tank and supplies to be delivered to the school.

Once everything was delivered we began to fabricate the stand for the water tank. Then, we had to wait for the rain to stop so we could cement the area where the water tank would be located.

We then put the stand in place and connected the pipes, so that the water would flow. We did all of this work on weekends when school was not in session.

Thanks to you, our school now has a needed second water tank. One of the MAPEH teachers said, "This project will be of a great help to this school!" The school and community are very thankful to your organization.

Maraming Salamat Po! (Much Thanks!),
We are grateful to Steven for completing this important project. We are also grateful to the Elmo Foundation for providing the major funding for the project.