La Laguneta Water Project – El Salvador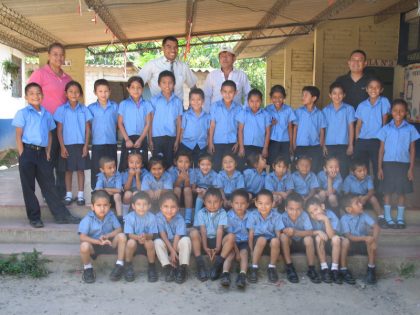 Location
La Laguneta, San Juan Nonualco, La Paz, El Salvador
Community Description
La Laguneta is a small community of about 650 people situated on the side of the San Vicente volcano. The majority of the people work as day laborers in the coffee fincas which surround the community and cover the volcano.
The community suffers from a lack of water during the dry season, which lasts from November to May. There are times when families do not have enough water to bathe or wash clothes every day.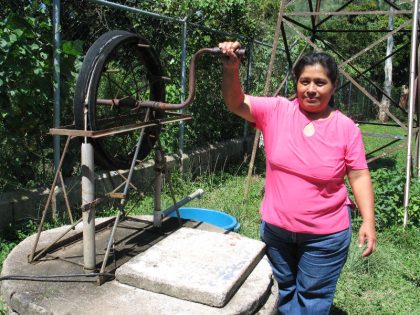 The local elementary school receives its water from a well at the corner of the property. Water is currently manually pumped using a wheel and rope system. It is then carried to the bathrooms for use by the children in washing their hands and flushing the toilets. In addition, it is carried to the kitchen area to be used for preparing food and washing dishes.
Project Description
This project is to purchase and install a 1.5 HP electric pump to draw water from the well. The water will be piped to an existing tank which is connected to the bathrooms, kitchen, and a faucet on the side of the school.
Project Impact
This project will benefit the 119 students, ages 4-15.
Peace Corps Volunteer Directing Project
Anna Penoyar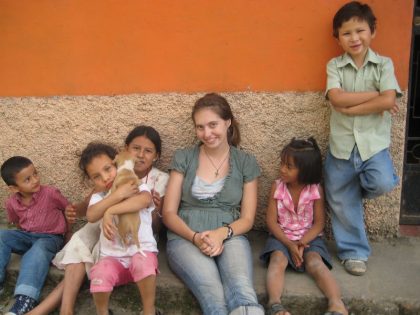 Comments
This project will provide a ready flow of water for use by the students and school caretakers. It builds upon the existing infrastructure, and will result in a great savings of time and labor, as well as an improvement in the hygiene of the school.
Dollar Amount of Project
$200.00
Donations Collected to Date
$200.00
Dollar Amount Needed
$0.00 – This project has now been fully funded in honor of the 6th-grade students of the Beebe School in Malden, MA.
We encourage others to continue to donate using the Donate button below, and we will notify Peace Corps Volunteer Anna Penoyar of your donation. Additional funds will be used to fund the next project by Anna and/or those of her counterpart PCVs in El Salvador.
This project has been finished. To read about the conclusion of the project, CLICK HERE.