Conclusion of La Estancia School Water Project – Peru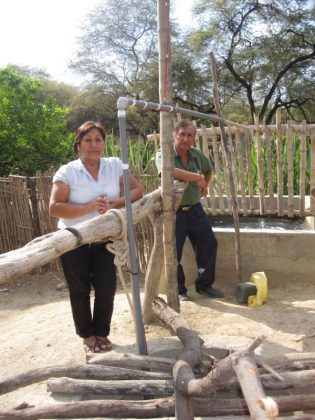 This project has been completed under the direction of Peace Corps Volunteer Sara Mascola. To read about the beginning of the project, CLICK HERE.
This project was to install an electric water pump, and to connect the well to the bathrooms and the elevated water tanks that serve the school.
Sara reports on the background of the project:
Before we submitted our proposal we did a study to identify the needs of the school and its student population. Our study identified the lack of water as one of the biggest problems in the school for various reasons. Without water, the sanitation at the school was low—we were unable to clean bathrooms, wash hands or clean the classrooms.

We had also planted two large gardens that held native plants used for consumption and medicinal purposes, but the work involved in watering them meant that the gardens were often dry and unable to produce fruits.

Our school had an already excavated and cemented well and we used a turnstile with a bucket attached by a rope to pull water out. This was a rather difficult labor, and was completely unmanageable by our youngest students.
Sara reports on the implementation:
After we purchased the pump, we found a technician that had experience in that type of electric pump system, and he proceeded to install it.

We also built hand washing stations near the bathrooms.
Sara reports on the outcome:
Now the pump is installed, we use it to fill our holding tank, which we already had built, and to supply water to the hand washing stations.

Due to the great change that we have seen since we installed the electric water pump, our students are motivated to do more planting projects and want to install new tubes to carry water to other parts of our school.

We are planning on doing several fundraising activities in our community to be able to continue our project that we were able to start thanks to Appropriate Projects!
Sara expresses the gratitude of the school:
On behalf of the community of La Estancia and the school "Cesar A. Vallejo" I want to thank you for your help in installing an electric water pump to facilitate water in the school.
We again wish to thank The Soneva SLOW LIFE Trust for providing the funds for this project.