Kraubau Well Project – Cambodia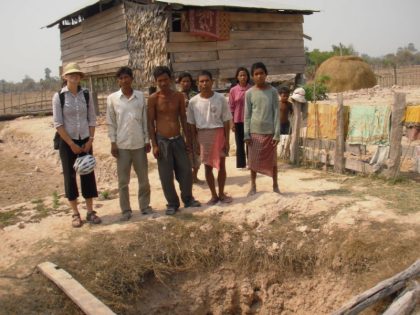 Location
Kraubau, Boribo district, Kampong Chhnang province, Cambodia
Community Description
Kraubau village is a very poor community about 7 kilometers off of national highway 5 in Boribo district, Kampong Chhnang province. Boribo is about 2.5 hours, or 120 kilometers northeast of Phnom Pehn city.
Kraubau is a disproportionately poor and vulnerable community. Most people are farmers. However, growing is difficult because of the lack of a consistent water supply.
Most children drop out of school before completing primary school due to pressure from parents to support the family by farming, or having to raise their siblings. There was a primary school in the community, but it was shut down two years ago when teachers stopped showing up due to the difficult commute.
There is a lack of access to clean water. The community relies on rainwater during the wet season and uses crude, unreinforced, hand-dug wells, which often collapse, during the dry season. There are no latrines.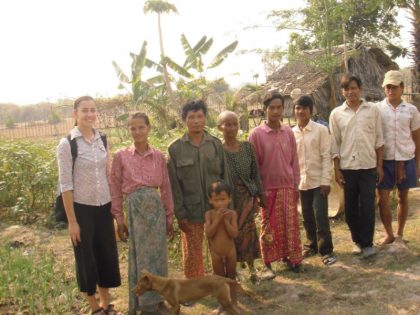 Project Description
Two hand-dug wells will be improved by increasing the depth of each by 4 meters and installing pipes for reinforcement. This will make water available during the dry season.
Although located on private property, the families will share the water supply with surrounding members.
All of the labor will be done by the community. A skilled community member will be paid for supervising the project.
Project funds will pay for the materials and their transportation to the job site.
Monthly health workshops will be held on such topics as the prevention of mosquito-borne illness, the prevention and treatment of diarrhea, and basic sanitation.
Project Impact
44 people will be immediately affected by this project. In addition, approximately 50 local agricultural workers and loggers who work in the surrounding areas will directly benefit.
Peace Corps Volunteer Directing Project
Keiko Valente
Comments
Existing but marginally functional wells will be remediated by this project. Safe water will be available to the community year-round. This will have a great impact on the economy and public health of the community.
Dollar Amount of Project
$380.00
Donations Collected to Date
$380.00
Dollar Amount Needed
$0.00 – This project has been fully funded, through the generosity of Keiko's friends.
We encourage others to continue to donate using the Donate button below, and we will notify Peace Corps Volunteer Keiko Valente of your donation. Additional funds will be used to fund the next project by Keiko and/or those of her counterpart PCVs in Cambodia.
This project has been finished. To read about the conclusion of the project, CLICK HERE.