Conclusion of Koboye Latrine Project – Senegal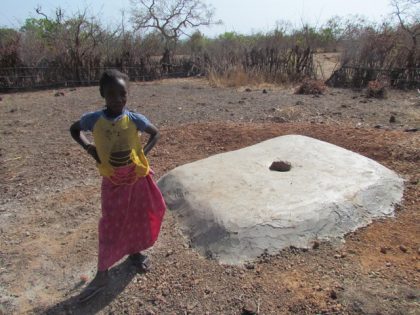 This project has been completed under the direction of Peace Corps Volunteer Ashleigh Baker. To read about the beginning of the project, CLICK HERE.
This project was to construct 12 latrines in the village of Koboye.
Ashleigh reports:
We have finished up the latrine project in Koboye, Senegal.

After receiving the money, I went to the hardware store and picked up the cement and rebar. I am good friends with a truck driver that comes close to my village on a weekly basis for the market. He gave me a good price on the transport up my mountain and to the village.

We unloaded the goods and work began the next day. I had a few problems with the main mason; luckily his apprentice was very kind and hard-working. They had split the work in half but the original mason had not started his work by the time the apprentice had finished his half. The apprentice stepped up and pushed the original mason to work with him to finish the project.

The families will be making their own fences once the cement has completely dried. They are all very happy to have their new latrines.

I have had a number of people discuss future latrine projects with me; some have even started digging holes! As each latrine is finished, I have photographed it and talked to the family about handwashing and allowing children to have access to the latrines.

World Vision has provided handwashing stations. Before confirming that the latrine would be built, I asked that each family agree to let children use it. This is something I will be following up on throughout the rest of my service.

Thank you for the support! The people of Koboye are appreciative!
We are grateful to Ashleigh for completing this project, and again extend our thanks to her friends and family for providing the funding.