Kibungo Hospital Water Project – Rwanda
Location
Kibungo, Ngoma District, Eastern Province, Rwanda
Community Description
Kibungo is about 100 km east of Rwanda's capital city of Kigali, and about an hour from the Tanzania border.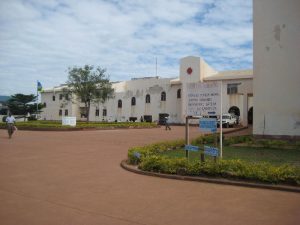 The Kibungo Hospital serves the entire District of Ngoma, made up of 14 different sectors, and 42 imidugudu (villages in the local language, Kinyarwanda). While health centers and post are located in those areas, it is the hospital that receives and treats patients with the most severe forms of illness or specialized needs.
The Hospital is a complex, made up of a variety of wards, namely pediatric, maternity, mental health, and tuberculosis.
The pediatric ward is made up of 20 beds, which are sometimes all full. The dedicated staff members have their hands full with an average of 120 patients admitted every month. The 11 nurses and 2 doctors care for patients suffering from an assortment of illnesses, from respiratory infections to malaria, severe wounds, skin afflictions, AIDS and malnutrition.
There is no running water in the pediatric room. Staff currently uses a cup to scoop water from a bucket for handwashing.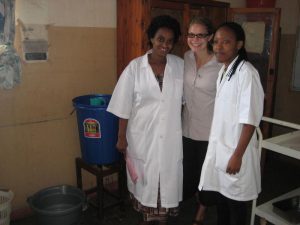 Project Description
This project will install a sink within the pediatric ward of the hospital, and connect it to an existing external water source.
Project Impact
Approximately 1440 people, plus the staff of 11, will benefit from this project each year.
Peace Corps Volunteer Directing Project
Anna Montgomery
Comments
This project will clearly improve sanitation in this ward, thereby reducing the spread of disease. In addition, it will reduce the burden on the dedicated health workers by making water readily available when needed. Finally, staff will be better able to role model hygienic practices.
Dollar Amount of Project
$315.00
Donations Collected to Date
$315.00
Dollar Amount Needed
$0.00 – This project has now been fully funded, through the generosity of The Soneva SLOW LIFE Trust as a part of their Clean Water Projects initiative.
We encourage others to continue to donate using the Donate button below, and we will notify Peace Corps Volunteer Anna Montgomery of your donation. Additional funds will be used to fund the next project by Anna and/or those of her counterpart PCVs in Rwanda.
This project has been finished. To read about the conclusion of the project, CLICK HERE.