Conclusion of Kiaoni Secondary School Water Tank Project – Kenya
This project has been completed under the direction of Peace Corps Volunteer Jen Hagen. To read about the beginning of the project, CLICK HERE.
The project was to purchase and install a water storage tank and rainwater catchment system to provide for the needs of the school.
Jen reports: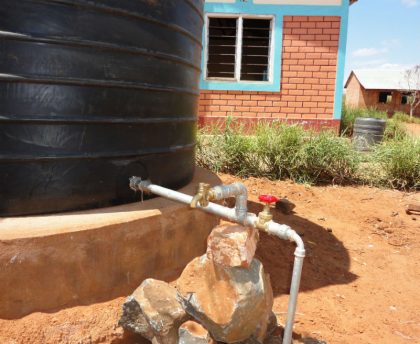 The Water Tank Project for Kiaoni Secondary is finally complete!

With the money provided by Water Charity, Kiaoni bought a 5,000-liter tank from Kibwezi Town for 40,000 ksh. Hope Hardware Store in Kibwezi delivered the tank to Kioani Secondary School, some 35 k away, for no charge.

The community and Board of Governors for the school were able to raise additional funds for purchasing the tap for the tank, rain gutters for the roof of the staffroom, piping, and the materials to make the slab on which to place the tank.

Fundis (workers) who installed the tank and rain catchment system were parents, who were then able to pay some of their children's school fees through their excellent hard work.

The tank now sits next to the staff room with gutters and pipes in place running from the staffroom roof into the tank to allow clean water catchment. The rains have finally come and the tank is getting a little fuller everyday as the water is harvested.

The new tank serves as storage for clean water used in food preparation and drinking and the old tank is now used to store "salty water" from the River Athi which is used for agriculture and cleaning.

The Kiaoni Secondary community is so grateful and excited about our new clean, large water storage tank for the school. A huge THANK YOU from the Students, Teachers & Support Staff, Parents, Board of Governors and myself for this wonderful gift of clean water!!
We extend our thanks to Jen for completing this great project.