Conclusion of Khutsubani Public School Water Project – Georgia
This project has been completed under the direction of Peace Corps Volunteer Alissa Harvey. To read about the beginning of the project, CLICK HERE.
The project was to bring water to the school and install fixtures for handwashing and drinking water.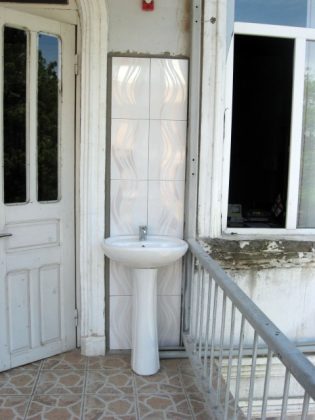 Alissa reports:
The piping system at the school had deteriorated over the past two decades, and two of the three faucet taps outside no longer worked. The school also lacked an adequate drinking fountain to provide access to drinkable water for students and teachers.

The project was designed to install faucets used for handwashing at the school and an outside sink linked to the teachers' lounge. It was completed according to plan.

All three faucets were replaced. The cement structure was rebuilt, and tiles were placed to create a new handwashing station for over 500 students at the school.

Water Charity funds were used to purchase materials, including pipes, fittings and fixtures, and tiles.

Teachers Nodari Tkhilaishvili and Madona Goliadze facilitated purchasing materials and monitored the progress of the project. The project was completed quickly and finished within six weeks of receiving the funds.

Teachers worked with a local hardware store to find all the materials needed for the project and also voted together to finalize project details (such as tile colors).

This project helped upgrade the water and sanitation standards of the school and improved the health and wellbeing of students and faculty.
We extend our thanks to Alissa for completing the project. We still need donations to pay for it.