Conclusion of Kharkov Gymnasium #82 Filter Project – Ukraine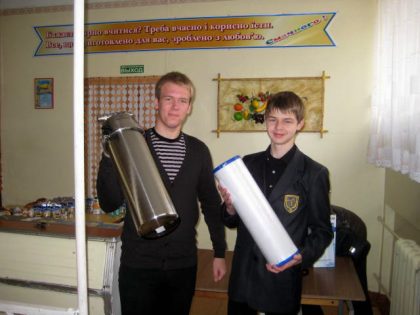 This project has been completed under the direction of Peace Corps Volunteer Whitney Farmer. To read about the beginning of the project, CLICK HERE.
The project was to purchase and install a water filter for the kitchen of the school to provide clean water for cooking and drinking.
Whitney reports:
The Kharkov Gymnasium #82 Water Filter Project has been a wonderful success! Thank you so much to Appropriate Projects for funding this essential project!

At our gymnasium, we used the Water Charity funds to purchase a water filter, a water filter cartridge, and to pay for the installation of this equipment in our school's cafeteria. Our water filter cartridge filters 40,000 liters of water, which will provide enough clean drinking water for the duration of the school year. For future years, the administration and parents of our school students have committed to contributing enough money each year to purchase a new filter for every school year.

Within two weeks of receiving funds, our school had purchased and installed the water filter. They had been anxiously awaiting funds and could barely wait to finally have clean drinking water available at school for the first time since the school opened in 1973.

Although my school has been the lucky recipient of a number of grants through my work with the Peace Corps, my school has been most excited about this project. When you lack something as basic as clean drinking water, all other projects seem superfluous in comparison. Clean drinking water is something that affects every single person at our gymnasium. Due to the large scope of this project, the excitement for a water filter was felt throughout the gymnasium; it was highly anticipated and has been a common theme of conversation over the course of this fall.

What also really spurred excitement for this project compared to previous projects was the simple fact that you posted our project on the Internet. My students and teachers have been enamored with their ability to track the progress of this project online and have hoped that they can have their smiling faces next to the successful installation of a clean drinking water facility. Contending for this coveted spot online, my students felt a special incentive to stay really involved in completing this project.

My school is quite dedicated to all things related to drama, publicity, and rudimentary filmmaking, so they were eager to turn this project into something where they could exercise their talents. In order to showcase their skills in a successful effort to publicize this project, they made a Public Service Announcement related to the effects of unhealthy drinking water to be aired at our gymnasium. They also made a short documentary film of the progress of receiving and installing a water filter in our gymnasium.

Needless to say, the 1,300 students, faculty, and staff of Gymnasium #82 are overwhelmingly thrilled to finally have access to clean drinking water at school during the school days.

As for me, I have loved how relatively simple this project was to complete. As a Peace Corps Volunteer who has completed a handful of government-sponsored grants, it's been a constant struggle to stay above the ceaseless paperwork of grant-writing, budget spreadsheets, monitoring cards, and completion reports. The structure of this project has allowed me to really work on the tangible aspects of this project and allowed me to get out from behind a desk laden with red tape.

Thank you so much and keep up the great work!
We wish to thank Whitney for completing this project, and again extend our gratitude to The Soneva SLOW LIFE Trust for providing the funding.