Kham Deuay Learning Center Bathroom Renovation Project – Thailand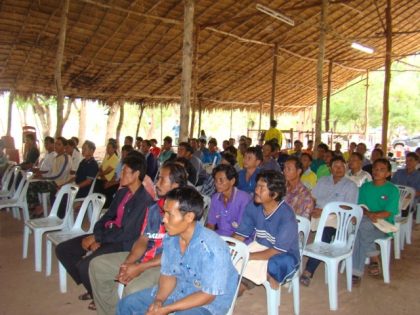 Location
Kham Deuay Village, Amnat Charoen Province, Thailand
Community Description
Kham Deuay Village is a small, rural community located in Amnat Charoen Province, in Northeast Thailand, about 25 kilometers inland from the Mekong River. It is situated about 25 km southwest of the Thai-Lao border and 150 km north of Ubon Ratchathani.
The village population consists of approximately 2,000 people out of 10,000 living in the surrounding Sub-District area. 100% of the 157 households in the village work in agriculture, primarily focusing on rice and cassava.
The community's income per capita is THB 33,183 (USD $1,000), according to the Sub-District Administrative Office's Socioeconomic Baseline Data. This is less than 30% of the national income per capita.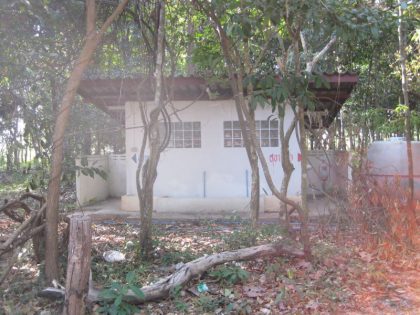 While Kham Deuay suffers economic hardships, the village prides itself on its traditions and unity. Kham Dueay is a Phuthai community and is home to many unique customs and celebrations. Additionally, the village is home to several majestic forest temples and ecotourism venues.
Kham Deuay is certainly endowed with special resources, but local irrigation and plumbing are not as developed as in the majority of the country. These infrastructural problems obstruct the community from reaching its economic potential.
Project Description
The Kham Deuay Village Learning Center is the central meeting location in the village. Local occupational groups and schools gather there for trainings and cultural activities.
The chief complaint lodged by community members and visitors is the lack of a sanitary, functioning restroom facility in the learning center. The current bathroom facility is unable to draw water from the local reservoir, as it lacks a water pump and necessary plumbing. It currently relies on rainwater, which is insufficient.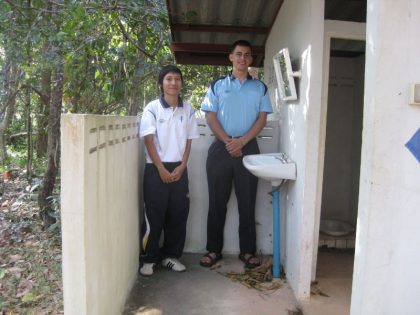 Also, the faucets at the handwashing station have been completely unusable for many years. Visitors do not have a place to wash their hands before and after lunch breaks at the learning center.
This project is to install a pump and necessary piping, and repair the handwashing stations at this bathroom.
Project funds will be used to purchase the water pump, PVC piping, PVC joints, construction tape, and faucets for the renovation of this facility. These improvements will make the Learning Center a more sanitary place for villagers and a more appealing destination for visitors to the area.
Project Impact
The entire population of Kham Deuay, approximately 2,000 villagers, will benefit from this project. Additionally, these facilities will be used by tourists and citizens of other villages within the Sub-District during special activities.
Peace Corps Volunteer Directing Project
Kent Elliott
Comments
This project brings water to a widely-used community center. It will have broad impact, contributing to the public health of an entire community.
It builds upon existing but nonfunctional facilities in the building, and has a great impact for a minimal budget.
Dollar Amount of Project
$500.00
Donations Collected to Date
$500.00
Dollar Amount Needed
$0.00 – This project has been fully funded, through the generosity of The Soneva SLOW LIFE Trust as a part of their Clean Water Projects initiative.
We encourage others to continue to donate using the Donate button below, and we will notify Peace Corps Volunteer Kent Elliott of your donation. Additional funds will be used to fund the next project by Kent and/or those of his counterpart PCVs in Thailand.


This project has been finished. To read about the conclusion of the project, CLICK HERE.