Kati Pump Replacement Project – Togo
This project is made possible through the partnership of WATER CHARITY and the NATIONAL PEACE CORPS ASSOCIATION.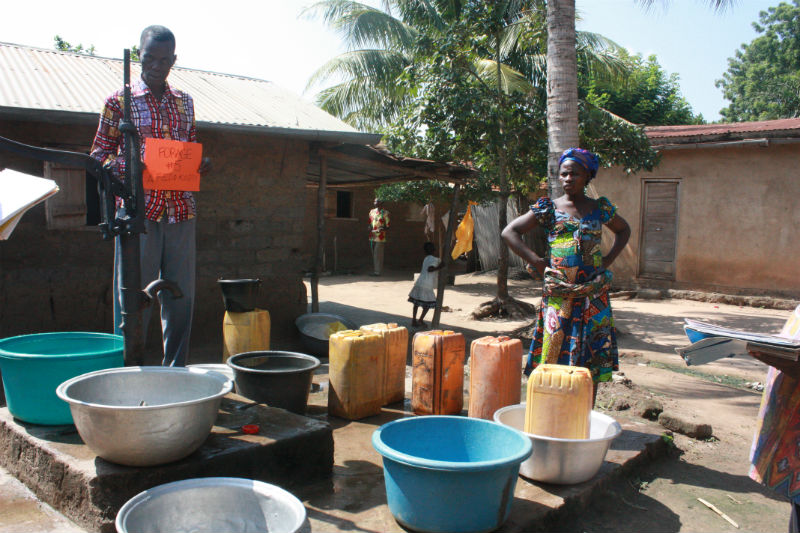 Location
This project summary has been redacted for security reasons to omit the specific project location.
Kati, Togo
Community Description
The community of Kati is a rather large village by country standards, with a population of about 8,023 people who are predominantly farmers. It is located in the lush Plateau region of Togo near the regional capital of Kpalimé.
The area is surrounded by waterfalls and mountains, with the tallest mountain in Togo, Mt. Agou visible in the distance. Like much of the south of Togo, the community predominately grows corn and yams. On Tuesdays a very large and plentiful market takes place in Kati, and those from the surrounding cities of Lomé and Atakpamé come to buy goods and produce from villagers at a low price.
Although the community does not have amenities like electricity or running water, it is prosperous, and has great potential for growth. It is located on the road from Notse to Kpalimé- two major Togolese cities. There is much traffic in and out of the village from the market and travelers.
The community is very diverse; the majority of the population is Ewe, (an ethnicity that makes up almost all of the south), but ethnic groups from the north of Togo are represented. Thus, there is a great mixture of cultural traditions, with everyone learning from each other.
People in Kati are very sophisticated and open to new ideas. The community is highly motivated and organized, already fostering great initiative for its own projects in its Village Development Committee. The community just established its own high school, and already in existence are two middle schools and two elementary schools (Public and Catholic).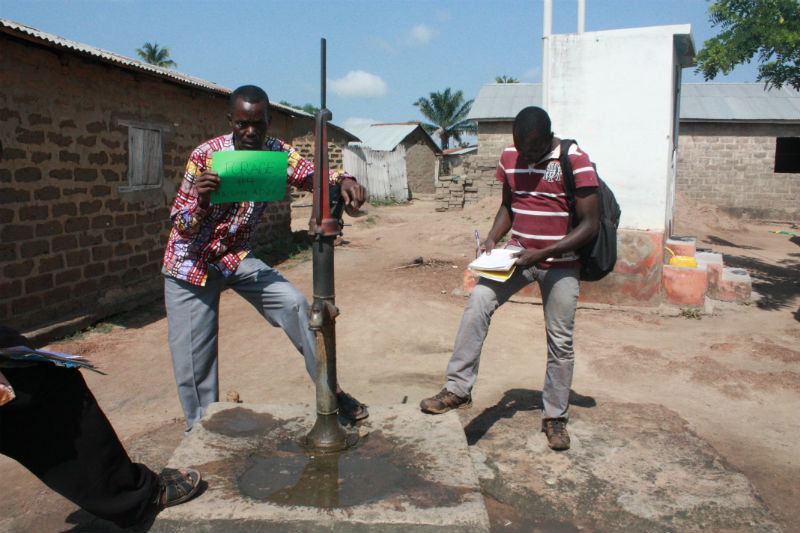 Problem Addressed
The majority of the community does not have direct access to potable water and may lose access completely if change does not occur in the near future. Currently, twelve 30-year-old pumps of a 32-meter depth exist in the community. The pumps break frequently; of the twelve only six are functioning, and only two are functioning well at this moment. The existing parts for the pumps are rare, and if found in the market, prove to be expensive.
To collect water, women, boys and girls are walking forty minutes to the River Zio and/or stagnant puddles left over from the rainy season to avoid long wait times at the pump. Additionally, many of them are walking far from their homes because their closest pump is broken and has stayed broken for months or even years.
When they finally arrive at home with water from the river, it is dirty and unsafe to drink. They consume it untreated and use it to prepare meals for their families. After consumption of this dirty water, many community members in Kati visit the local clinic complaining of symptoms of diarrhea and hematuria, (the appearance of blood during urination).
Consultation records at the local clinic in Kati show a high influx of patients suffering from a variety of gastro-intestinal parasites contracted from the intake of non-potable water. There are more likely others who suffer that will never visit the clinic, due to lack of funds or a preference for traditional medicine.
Project Description
This project is to replace 5 wells in the community.
Component one, of four components of this project, is the creation of water management committees made up of three women and two men, for each pump existing in Kati. This component has been completed.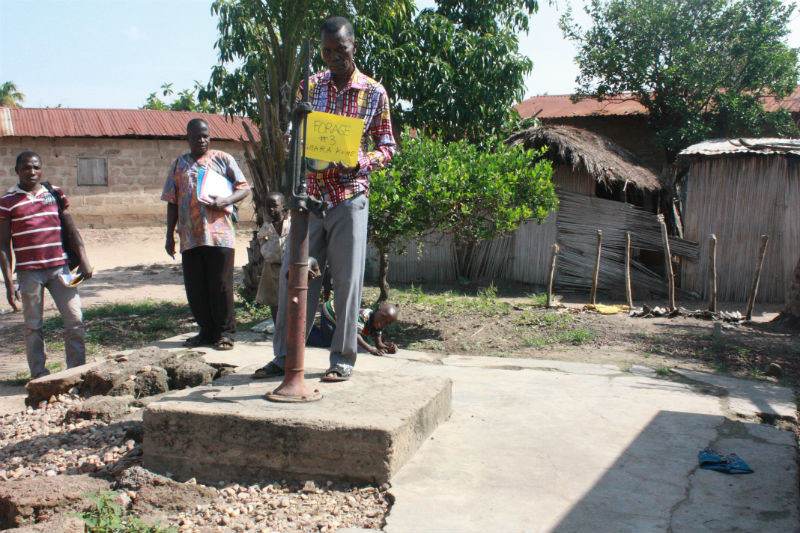 The second component is the rigorous three-day training of the water committees on how to manage a pump, conducted by a hydraulics expert, (who is partnered with the Togolese government), and a representative from PLAN Togo. These two men have already successfully led trainings for water committees in other villages. The first two days will present the roles and responsibilities of the water committee along with safe water consumption and hand washing practices. The third day of training will challenge gender norms in regard to water management in the household and village, as well as address the importance of girls' education. Corresponding trainings will also occur for students in every middle and high school and for community members at pump sites.
The third component is the replacement of five pumps with the Togo standard, India Mark II Pump. First, the old cast-iron pumps, along with the concrete slabs that the pumps rest on will be removed. This will be completed by Kati's own local water pump technician. Next, a mason from Kati will create new concrete slabs for the new pumps. Closely following, the new stainless steel Indian Mark II pumps will be installed.
The new pumps will be purchased from an established boutique in the capital city of Lomé which has, (due to the size of the order), agreed to transport them at no cost. The installation will be completed by two water pump technicians and their teams. The first technician is from Lomé. He has over twenty-three years of experience and has installed pumps for the Togolese government and UNICEF. The second technician is his apprentice, who resides in the neighboring county of Agou, (only thirty minutes away from Kati). He has over fifteen years of experience and has also installed pumps for UNICEF.
When the new pumps have been installed, the water committees will implement their selected manner of fund collection; (some villages select to charge monthly for water, while some charge for each basin). These funds will be kept in an account at the local micro-finance institution. These funds will exist to maintain and repair the new pumps.
The fourth component of this project is an effort to raise the water table in Kati by planting over 1,500 Teak trees on community-donated land. Kati has donated two hectares of land for the project. An agreement will be signed by the chief, local authorities and the local military police. Community members from each neighborhood will come together when the rainy season begins to plant the Teak tree seedlings on this land.
The funds from the Water Charity will be used for the following:
-labor for first technician and his team to remove ancient pumps along with old concrete slabs
-labor for mason to create new concrete slabs
-labor for second and third technician with their teams to install new Indian Mark II Pumps
-the five new India Mark II Pumps and materials (pump exterior, piping, rods, cylinder, strainer, teflon, bolts, nuts, bags of cement)
-per diem and materials for three-day water committee trainings (pens, notebooks, food, gasoline to transport trainers)
-transportation by motorcycle truck of Teak tree seedlings
Project Impact
8,023 people will benefit from the project
Peace Corps Volunteer Directing Project
J. Slayton
Monitoring and Maintenance
After three months following the installation of the pumps, the technician nearby in Agou (that installed the pumps), will return to assure they remain in good form. He will make any necessary repairs. Monitoring will continue with succeeding Peace Corp volunteers in Kati.
In the future, the water committees will continue to oversee and maintain this project. The rigorous three-day training will help prepare them for lasting successful management.
The Village Development Committee will oversee the water committees and the project, and the Village Development Committee will be monitored by "Les Affaires Sociales", a local development organization (partnered with the Togolese government) that created the Village Development Committee and has assisted in the implementation of this project.
Let Girls Learn
This is a designated "Let Girls Learn" project. It is projected that absentee and drop-out rates will decrease for girls in Kati after this project. Having potable water sources close to home will help them gain more access to education and future opportunities.
Additionally, girls will have more access to a quality education. After trainings demonstrating safe water consumption practices and hand washing, as well as the addition of nearby potable water sources, girls will be far less likely to fall ill from non-potable water. Sickness from dirty water can greatly limit the educational opportunities and future prospects for girls in the community.
This project has been funded by an anonymous donor.