Kasinje Health Center Water System Project – Malawi
This project is made possible through the partnership of WATER CHARITY and the NATIONAL PEACE CORPS ASSOCIATION.

Location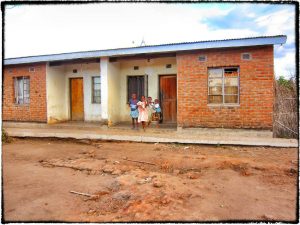 Kasinje, Ntcheu District, Malawi
Community Description
Kasinje is a trading center in Ntcheu district, located in the Central Region of Malawi. The Health Center in Kasinje serves a catchment area of about 55,000 people living in 57 villages. Most of the population are farmers, growing primarily maize, tobacco and cotton. The area is very poor and uneducated.
The Health Center contains a maternity ward that delivers 120-160 babies each month. It also houses women in their last month of pregnancy so that they can easily access medical assistance as needed and are guaranteed to deliver at the health center.
Problem Addressed
The health center staff is currently inadequate and the Ministry of Health is constantly struggling to find qualified personnel willing to live in Kasinje. This is due, in large part, to the less than desirable living conditions at the health center, including a lack of running water in or near staff housing.
Currently, the staff are sharing a borehole with the hospital and the community. This means they are waiting in line for water along with the pregnant women and their guardians living at the hospital as well as with general community members. It often takes hours to draw a single bucket of water.
This time drain impacts the staff in various ways. It takes time away from work and other personal development goals. It also takes away valuable time that could be spent studying or pursuing other extracurricular activities.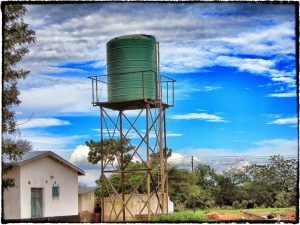 The Health Center has struggled for years to being in enough qualified staff. Currently, this health center serving 55,000 people has two Medical Assistants, three nurses and 29 Health Surveillance Assistants. It has been particularly challenging to bring in Medical Assistants and nurses, who do the actual clinical work, because with their qualifications they can easily find work at a health center or hospital offering a higher standard of living.
Project Description
The project designed by the hospital staff involves piping water from an existing tank at the health center, which is filled by a pump, to four different taps located at health center staff housing. There are eight houses located directly on the health center campus, so each pair of houses would share an outside tap.
The first step will be to dig trenches from the tank to the proposed tap sites. This work will be done by community members, organized by the Health Center Committee in conjunction with local chiefs. The taps will then be installed within brick boxes that will be locked for security. A community member who works for the local water board has been identified and agreed to oversee the laying of the pipes and the tap installation.
Funding will be used to buy pipes and connecting apparatuses, taps and cement for the tap structure, and to pay labor costs for building the lock boxes. The community will provide labor for digging trenches and laying pipes as well as installing taps. They will also provide sand and bricks for the locked boxes.
Project Impact
Substantial improvement of quality of life for all 24 of the current Health Center workers, and a direct benefit to the 55,000 people who make use of the Health Center.
Peace Corps Volunteer Directing Project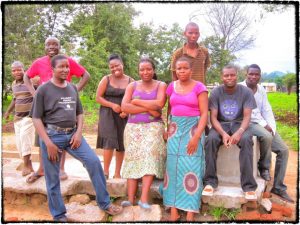 Rebecca Burleson
Monitoring and Maintenance
Kasinje Health Center Committee – They designed the project and will oversee its completion once materials are purchased. Tap users will be responsible for monitoring the condition of the taps and reporting any issues to the Health Center Committee.
Comments
It is the hope of everyone involved that this improvement to the living situation of the Health Center workers will allow the center to attract and maintain a larger staff of nurses, medical assistants and such. Should the Health Center get even a couple of extra people, it will have a significant effect on the treatment and care received by the people in the area.
Dollar Amount of Project
$1,150
Donations Collected to Date
$1,150
Dollar Amount Needed
$0 – This project has been funded by a major Water Charity donor, who prefers to remain anonymous.
Any additional donations will be utilized to fund additional projects in Malawi.

This project has been completed. To read about the conclusion, CLICK HERE.