Conclusion of Kandieng Reay Health Center Bathroom Project – Cambodia
This project has been completed under the direction of Peace Corps Volunteer Christin Spoolstra. To read about the beginning of the project, CLICK HERE.
The project was to build a new bathroom at the health center.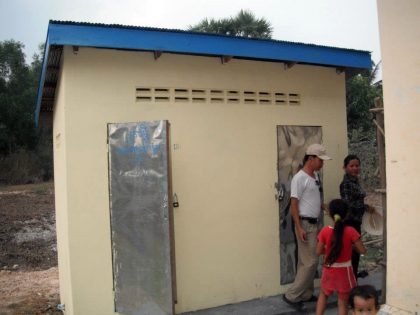 Christin reports:
The project was finished according to plan within weeks, making sure to finish before the extended Khmer New Year holiday.

Upon receipt of the funds from Water Charity, the health center expedited all the work. The materials were bought within days and stacked outside the health center, and they broke ground on the project that same day.

During construction, the health center stayed true to the original proposal, except for one addition: They added a shower fixture in one of the bathrooms to provide for the personal hygiene of the patients.

The bathrooms were built as an independent structure directly outside of the back door of the health center. They are being kept in clean condition, with electricity to light them during night time needs.

The cost of the project was higher than anticipated, as they faced higher costs on the wood and electrician, but the health center supplemented the funds.

The health center staff is excited about the finished project.
We are grateful to Christin for completing this project, and again wish to thank the Anonymous donor for providing the funds.