Conclusion of Kamagambo Day Mixed Secondary School Rainwater Catchment Project – Kenya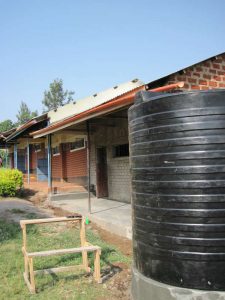 This project has been completed under the direction of Peace Corps Volunteer Ben Switzer.
To read about the beginning of the project, CLICK HERE.
The project was to build a rainwater catchment system at the school.
Ben reports:
Scope of the Project
This project involved a rain catchment system for the Kamagambo Day School compound. Kamagambo is the village that is within the Rongo District of Nyanza, Kenya. The rain catchment system is just a basic gutter tank system. The project will assist the entire compound whose needs range from thirst quenching to kitchen usage to farming needs.

Work Done
This project had several phases. The first phase was to construct a platform/foundation for the water tank. To be more sustainable, the school decided to fund their own money in the construction of a concrete foundation over a wood platform. After the completion of the foundation, the tank, tap, and gutters were purchased.

Water Charity funds were primarily used for the purchasing of this equipment and transporting it to the school. The cost for the "fundis" (workers) to erect the rain catchment system was partially paid by the remaining funds, and also paid from the schools contribution.

The tank was placed on the foundation. Then, the gutters were made from 20-foot long PVC pipes, which were cut in half to form gutters and attached to 4 classrooms.

Description of System
The tank has a diameter of about 2 meters, so the concrete foundation was precisely measured in order to fully support the base of the tank. The base of the tank is equipped with a tap that is capable of being locked. By providing this locking aspect, it fends off unauthorized use of the water catchment system.

The 5,000 liters tank was stationed at the end of 115 feet of gutter that travels the length of the school's four classrooms.

Community Commentary
The principal said that this was a great step in making changes to the organization of the compound and utilizing its small area. The kitchen can be re-positioned to be more conveniently placed near the new water source.

When the kitchen workers saw the tank installed for the first time, she was so happy she had to pray about it.

Thank you for making this possible. I know the rain catchment system will be put to much use.
We are grateful to Ben for completing this important project.