Kamagambo Day Mixed Secondary School Latrine Project – Kenya
Location
Kamagambo, Rongo District, Migori County, Nyanza Region, Kenya
Community Description
Kamagambo is 5 km north of Rongo and 25 km south of Kisii, about 20 km from the southern coast of Lake Victoria.
Kamagambo is a very rural farming community that is on the edge of "Luo Land." Luos take the education of the children very seriously because education is seen as a success in their community.
The project community is Kamagambo Day School compound. The compound holds a pre-unit, primary, and secondary school. The student body on the entire compound is about 500 students.
An incident at the school caused the loss of the latrine that was being used by the secondary school girls.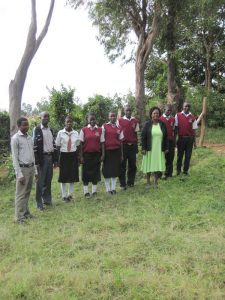 In addition, the boys of the secondary school are sharing a latrine with the primary school's boy's latrine.
Problem Addressed
All of the students on the compound are currently using two 4-door latrines that are located in the primary school section. This is not sufficient for the needs of the students.
Project Description
This project is to build a new latrine on the school compound.
The latrine will have 8 doors and will satisfy the needs for latrines for both the secondary boys and secondary girls.
The structure will be two 4-door latrines that are back to back. The location will be about 100 yards from the classrooms on the school compound.
The pit will be 7 ft wide by 13 ft long and 20 ft deep.
The local "fundis"(skilled laborers) will be responsible for the construction of the latrine. The same workers previously built the foundation of the school's new water tank, along with other projects around the compound.
Water Charity funds will be used to purchase materials, including cement, sand, ballast, and bricks.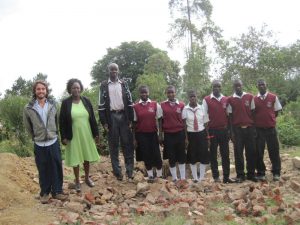 All the labor for the project, including for the excavation of the pit, will be provided by the school. Additional materials, including timber, nails, corrugated metal sheets, and hinges for the doors, will also be provided by the school.
Project Impact
500 students in three schools will benefit from the project.
Peace Corps Volunteer Directing Project
Ben Switzer
Comments
This is an essential infrastructure project to provide for the sanitation needs of the school.
Ben previously completed the Kamagambo Day Mixed Secondary School Rainwater Catchment Project – Kenya.
Dollar Amount of Project
$555.00
Donations Collected to Date
$555.00
Dollar Amount Needed
$0.00 – This project has been funded through the generosity of the Paul Bechtner Foundation.
We encourage others to continue to donate using the Donate button below, and we will notify Peace Corps Volunteer Ben Switzer of your donation. Additional funds will be used to fund the next project by Ben and/or those of other PCVs in the country of service.

This project has been finished. To read about the conclusion of the project, CLICK HERE.