Kagumba Primary School ISSB Tank Project – Uganda
This project is made possible through the partnership of WATER CHARITY and the NATIONAL PEACE CORPS ASSOCIATION.

This project has been completed. To read about the conclusion CLICK HERE.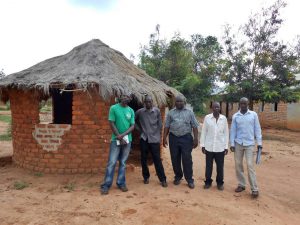 Location
Kagumba Primary School, Balawoli Subcounty, Kamuli Region, Uganda
Community Description
Kagumba Primary is a school in Uganda's rural Kamuli region. The region is one of Uganda's most neglected, a fact which is reflected in the school's lack of decent infrastructure. There are 4 classroom blocks (1 new) catering for 549 pupils.
The school has two broken plastic water tanks. At least one classroom has a large- enough roofing area to support and justify the construction of a 20,000 L rainwater harvesting tank. The Haileybury Youth Trust (HYT), has recently completed the construction of a 5-stance pit latrine, and the school is building 2 more.
HYT was impressed by the responsiveness and involvement of the school's administration, who are required to pay-in-kind, through services such as food/water provision, equipment storage, and security for the masons. These criteria were consistently fulfilled to a high standard.
Problem Addressed
The two current plastic water tanks were sabotaged when the school insisted that they were for the use of pupils, rather than the community as a whole. The damage involved the insertion of nails into the plastic walling.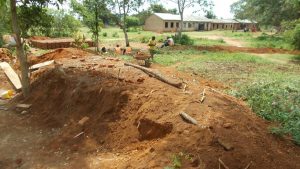 Project Description
A 20,000 L water tank will be constructed approximately 1 meter from the sturdiest classroom block and connected with gutters for harvesting rainwater. The tank will be built from Interlocking Stabilized Soil Block (ISSB) technology, which does not require firewood, unlike traditional burnt bricks, saving precious tree cover. The tank blocks are curved to suit their purpose, and made using a manual press. They will be made and used by ISSB masons, Ugandan youths trained by the Haileybury Youth Trust in this innovative technology.
All HYT masons are graduates of HYT's 'One Village' at a time program and were selected, as unemployed youths, to learn on projects in their local areas. They are now professional masons, some of whom have up to 10 years of experience building with ISSB. Water tank projects such as Kagumba contribute to their employment, as well as the spreading of environmentally-friendly ISSB technology.
Subsoil, a key component, will be sourced onsite in Kagumba, mixed with sand, a little (5%) cement and waterproofing, compressed into blocks, and cured in the sun for 28 days. Masons will then utilize the blocks' interlocking feature to build the tank, plastering and painting as well as roofing it.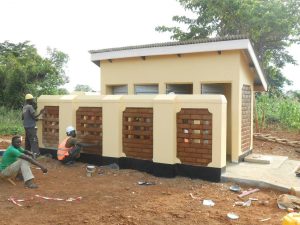 Water Charity funds will be used to purchase materials not freely available, like the murram (a gravelly lateritic material), cement, sand, roofing timber, iron roofing sheets, and paint, as well as to pay the masons' wages and project management fees.
The Kagumba Parent-Teacher Association and others in the community will feed the masons, as well as provide them with onsite helpers (e.g. water-carriers), accommodation, site security, and general support. Not only does such participation increase a community's sense of ownership of the project, but ISSB is also more resistant to the damages suffered by previous tanks.
HYT builds its taps in a separate outlet a few meters away from the tank, therefore disassociating them as a target of sabotage and facilitating easier repairs.
Project Impact
560 people (549 pupils + 11 teachers) will benefit from the project.
Project Manager
This project will be managed by Charlie Tebbutt, Assistant Country Manager, HYT Uganda
Monitoring and Maintenance
HYT employs locally-trained Ugandans to build its structures, creating a sense of local pride and ownership rather than an attitude of gift-receiving. The Trust signs a Memorandum of Understanding with the school and community, which includes clauses on the continued monitoring and maintenance of all structures, old and new.
When tanks are completed, communities are left with a manual and toolkit, to be used by a special committee for tank maintenance, stipulated in the M.O.U. HYT continues to visit project sites following their completion to check on the condition of structures and to encourage and advise the community regarding maintenance.
Let Girls Learn
Of the 549 pupils, 289 are girls. The onsite water source that the tank provides will reduce pupils' trips to the local borehole in order to collect water. Not only do these journeys take place during valuable lesson time, but they present risks to the children, particularly unaccompanied girls. A water tank will lower the occurrence of such trips.
This project has been paid for through the generosity of an anonymous donor.
---
Conclusion of Kagumba Primary School ISSB Tank Project – Uganda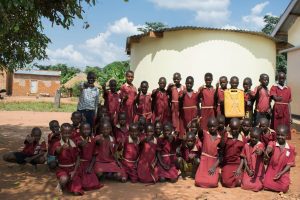 This project has been completed under the direction of Charlie Tebbutt, Assistant Country Manager of Haileybury Youth Trust (HYT). To read about the start of the project, CLICK HERE.
The project was designed to build a 20,000-liter water tank and rainwater catchment system using Interlocking Stabilized Soil Block (ISSB) technology.
Charlie reports:
I'm very happy to update you on the successful completion of the 20,000L tank at Kagumba Primary School.

The block-making team, assembled from graduates of HYT's training programme, arrived with the interlocking stabilised soil block (ISSB) press at Kagumba Primary School on July 13th 2017. Having selected and extracted local marram subsoil, they began to make curved blocks for the water tank. These blocks are cured in the sun, and do not require the firewood that is consumed by traditional brick-burning methods.

A foundational slab was laid down as the blocks dried and gathered strength. Once ready, they were stacked (a quick and simple process, thanks to the innovative interlock) to a height of 2.5 metres, enough to store up to 20,000L of rainwater! When the desired height had been achieved, the waterproofed blocks were plastered on the inside, with wire mesh to reinforce against the pressure of all that water. A roof was then added and the exterior was plastered, again with wire mesh to bolster integrity.

The tank's final layer of protection was a coat of paint, after which the tap was mounted on a plinth a few meters away. HYT does this so that inevitable wear-and-tear is concentrated around the easily replaceable tap, rather than the more complex tank structure. Once guttering had been connected from the roof of the classroom next door, the tank was ready for business, producing cool, clean water thanks to an innovative "first flush" system. The transformative effects on both the school's 289 girls and 260 boys, as well as the staff and community, are best described by the pupils and the deputy headteacher, Mr. Dathan.

"I move three kilometres to pick water from the borehole", pupil Yoweria told us, yellow jerrycan in hand, following one of her regular trips to collect water.

Mr. Dathan explained that "Every day we send them during morning time, during lunch and in the evening", in order to collect approximately 400 litres of water a day, for drinking, cooking and washing.

The tank's 20,000L capacity will give the pupils and staff "ample time to focus on teaching", according to Mr. Dathan.

The school has assembled a specific tank management team, and arranged for the community to have access to the water supply on weekends. This will ensure the long-term care of the facilities, and take pressure away from the local borehole.

HYT would like to thank Water Charity for their extremely generous support, as well as the community of Kagumba for their continued enthusiasm and assistance.
We extend our thanks to Charlie for completing this important project.