Justo Rufino Barrios School Water Project – Guatemala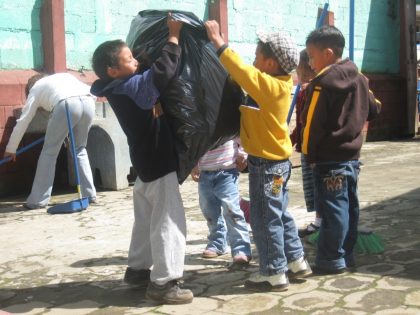 Location
San Francisco La Unión, Quetzaltenango, Guatemala
Community Description
San Francisco La Unión is a municipality of 7,286 inhabitants located just north of Olintepeque in the department of Quetzaltenango in the Western Highlands. The community is largely made up of indigenous Guatemalans and K'iche' is commonly spoken, although nearly everyone also speaks Spanish.
The community is in the mountains at an altitude of 2,770 meters, so the climate is fairly cold throughout the year. The community has not had sufficient resources to provide water at all times to its citizens, and water is available in homes and schools only infrequently.
The Escuela Oficial Urbana Mixta Justo Rufino Barrios is located in the center of town and serves the entire community.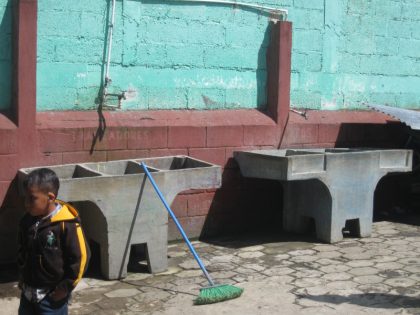 There is a critical water problem at the school, as water only runs one day every week or two. Thus there is a need for a water storage capability to serve the needs of the school.
In addition, the school does not have facilities to allow the students to practice proper hygiene.
Project Description
This project is to build a cistern at the school for water storage, and a handwashing station for use of the students.
The underground cistern will be 2 meters wide by 3 meters long by 2 meters tall. It will provide water to the already existing bathrooms and the new handwashing station.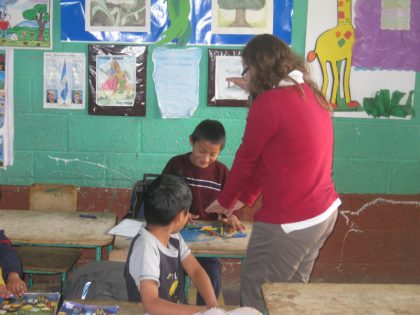 The handwashing station will be built with ten faucets for students to use in the practice of healthy habits (washing hands and brushing teeth).
The director planned the entire project himself, meeting with construction workers, the mayor and the parents of students.
The mayor has already paid for all of the supplies, and the parents of students are paying half of the labor costs. Project funds will be used to pay the remaining labor costs.
Project Impact
The project will directly affect the 292 students and the 16 teachers of the school. The families of the students will be indirectly affected due to better hygiene practices of the students in the school.
Peace Corps Volunteer Directing Project
Christine Dutko
Comments
This is a model project, in that it was designed and developed locally, has widespread community and governmental support, and the majority of the resources have already been gathered. These factors make it easy for us to provide the remainder so that the project can be implemented at once.
Dollar Amount of Project
$500.00
Donations Collected to Date
$500.00
Dollar Amount Needed
$0.00 – This project has now been fully funded through the generosity of Hannah Wachs, of Irvine, CA, USA, with the help of friends and family of Peace Corps Volunteer Christine Dutko.
We encourage others to continue to donate using the Donate button below, and we will notify Christine of your donation. Additional funds will be used to fund the next project by Christine and/or those of other PCVs in Guatemala.
This project has been finished. To read about the conclusion of the project, CLICK HERE.