Conclusion of Jargalant Public Hospital Water Purifier Project – Mongolia
This project has been completed under the direction of Peace Corps Volunteer Laura Alexander.
To read about the beginning of the project, CLICK HERE.
The project was to install an electric water purifier for the hospital.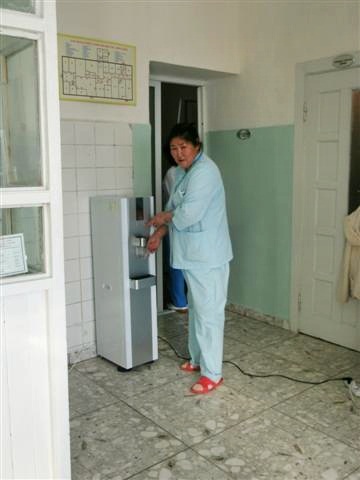 Laura reports:
The hospital director and I and purchased the water filter at the sales outlet. That evening, we returned to our town with the water filter salespeople and they installed everything right away.

When people heard that the money had come in all the way from California, they laughed in surprise. "It's so wonderful to think that there are people all the way over there who care whether or not countryside-dwelling Mongolians are able to get purified water at their hospital!" (This comment was made by Dr. Delgermaa, the hospital's head doctor and director.)

Thank you once again for all of your help — and for being part of such a great organization! I will continue to try to help spread the word about the admirable work that you are doing.
We wish to thank Laura for completing this project, and again extend our gratitude to The Soneva SLOW LIFE Trust, with the help of Laura's friends and family, for providing the funding.