Jammagen Primary School Latrine Project – Senegal
Location
Department of Nioro, the region of Kaolack, Senegal
Community Description
Jammagen is a village of about 700 people, mostly millet, bean, and peanut farmers as well as some skilled workers, craftsmen, teachers, and students. It is an ethnically Sereer village, although Pulaars, Sereers, and Wolofs live side by side, and everyone speaks Wolof.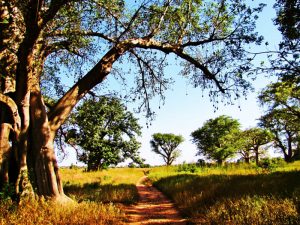 The Jammagen Primary School hosts just under 200 children and 15 teachers daily, and the two latrines they currently have are not sufficient to accommodate those numbers.
Project Description
This project is to build two covered latrines for the use of the students, and also install a water robinet for handwashing and to irrigate the school garden.
The two latrines will be located within the primary school grounds in Jammagen and will be constructed of cement, with sheet metal roofing and doors. The total dimensions of the latrines together will be about 3 m by 2 m, with a height of 2.5 m.
The latrine holes and will be dug by community members, and sand will be collected and provided for cement brick construction as a community contribution. Paid labor for the latrine project will include the brick making and actual latrine construction by masons from the village.
The water robinet will be a basic spigot that will be connected to the water line already in place in the village. It will consist of a single pipe faucet that comes up from the ground.
In addition, the water robinet will also be used as the water source for a school garden. The garden will be introduced by PCVs to the teachers who attend gardening training. The garden will serve as a teaching tool, as well as a way to provide products to be used in the children's' school lunches or to be sold for profit for the school.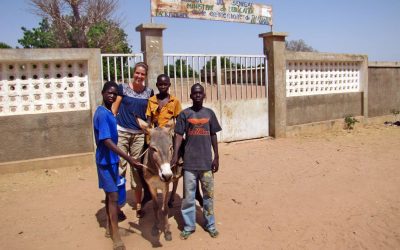 Project funds will be used to purchase materials for both the latrines and the water robinet, including cement for bricks and latrine covers, metal reinforcement wire, sheet metal roofing and doors, door locks, water faucet, water pipes and fixtures, water meter, and paid labor for brick construction, latrine construction, and robinet installation.
Project Impact
207 people will benefit from the project.
Peace Corps Volunteer Directing Project
Meg Hyatt
Comments
The latrine and faucet will provide for the sanitation and hygiene needs of the students, create a teaching potential, and result in a significant public health impact. The facilitation of water to the school garden will aid in nutrition, and provide a potential for economic benefit.
Dollar Amount of Project
$555.00
Donations Collected to Date
$0.00
ADOPT THIS PROJECT BY CONTRIBUTING THE DOLLAR AMOUNT NEEDED BELOW
Donations of any amount will be appreciated. The full amount will give you "naming rights" if that is something you would like.
Any contributions in excess of the Dollar Amount of the Project will be allocated to other projects directed by this PCV and/or projects of other PCVs in this country.
Dollar Amount Needed
$555.00
This project has been concluded.