Iramba District School Water Project – Tanzania
This project is made possible through the partnership of WATER CHARITY and the NATIONAL PEACE CORPS ASSOCIATION.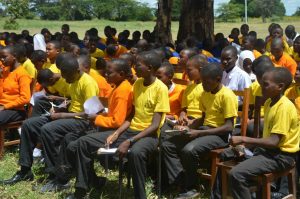 Location
This project summary has been redacted for security reasons to omit the specific project location.
Xxxxxxxxxx, Iramba District, Singida, Tanzania
Community Description
Most members of the community are subsistence farmers.
Xxxxxxxxxx Secondary School is in the Iramba District of the Singida Region.
Xxxxxxxxxx is also home to 4 schools – 2 secondary schools, 1 primary school, and a primary school teacher's college. Xxxxxxxxxx Secondary School serves all secondary students in the Xxxxxxxxxx ward.
Problem Addressed
There is no source of water on campus. The school currently gets water from the community pump which is a 20-minute walk from the school. These trips to retrieve water take time away from other school activities, especially class time. Fetching water is often a disciplinary action, which causes students to miss more than a period of instruction.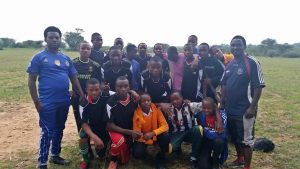 Project Description
This project is to build a rainwater catchment system at the school.
Rainwater collection gutters will be installed on 3 buildings. A concrete base will be built near each building, upon which a plastic tank will be placed. Piping will connect the gutters to the tanks, resulting in a total capacity to store 18,000 liters of water.
The project committee consists of Gunda Gunda, the head of school, the chair of the school board, the Peace Corps Volunteer, Liberia Kawishe, the second master Mr. Ngagilo, and the academic master Everst Mponzi.
The community will contribute 25% of the total project cost, in cash from parents and the community and in labor.
Project Impact
575 people will benefit from the project.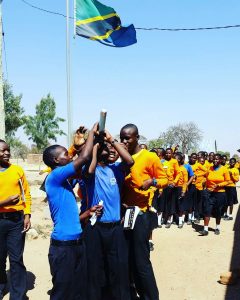 Peace Corps Volunteer Directing Project
J. Juran
Monitoring and Maintenance
The school maintenance committee will be responsible for the proper use, maintenance, and repairs of gutters and tanks after installation, and will cover all costs.
This project is sustainable because gutters and tanks require low maintenance, and no additional training is necessary for the school to take on these responsibilities.
Comments
This is an excellent, cost-effective project, which will provide water on campus, and significantly reduce the loss of instruction time due to fetching water.
Fundraising Target
$2,350
Funds raised in excess of the project amount will be allocated to other projects in the country.
Donations Collected to Date
$260
ADOPT THIS PROJECT BY CONTRIBUTING THE DOLLAR AMOUNT OF PROJECT
Donations of any amount will be appreciated. The full amount will give you "naming rights" if that is something you would like.
Dollar Amount Needed
$2,090