Introduction 2014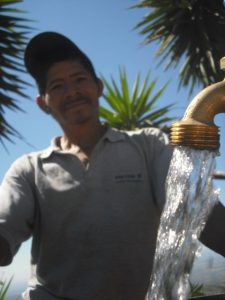 WHAT WE DO
As an initiative of Water Charity, we do small but critical water and sanitation projects. Each one is a solution to a problem, costs no more than $600, and uses appropriate technology. We start them at once and complete them very quickly.
We work with Peace Corps Volunteers serving throughout the world, who assist people and organizations in or near the communities where they live or work to identify, implement, manage, and evaluate the projects.
Each project has a high impact, resulting in clean water and effective sanitation for individuals, families, and communities. We are flexible and can react to emergencies.
We offer you, individuals and organizations alike, the opportunity to participate in our work, and fund these projects, in whole or in part.
At this time, we are not accepting unsolicited proposals. However, if you are a Peace Corps Volunteer or a Returned Peace Corps Volunteer and have a project in mind, give us a brief description and we'll get back to you promptly.