Conclusion of Internat School Water Project – Ukraine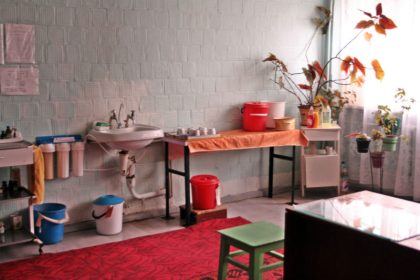 This project has been completed under the direction of Peace Corps Volunteer Karin Jones. To read about the beginning of the project, CLICK HERE.
The project was to install a water filtration system, and provide hot water for the kitchen and shower room.
Karin reports:
After receiving the funds from Appropriate Projects, we purchased two water heaters and a filtration system. The janitor of the school installed the filters.

The water heaters were installed by a friend of the director, who works at a company that does such work, without charge.

The water heater in the kitchen now enables the staff to wash dishes with hot water. This will lead to cleaner dishes, which is more hygienic, especially in a school environment.

The water heater in the in the bathroom now allows the students to use hot water when taking showers and washing their hands.

The water filter in the medical clinic means that clean water can be used when treating patients, and the children have safe drinking water.

Thank you so much for providing the funds. It makes a big difference in their lives!
We wish to thank Karin for completing this project, and again wish to thank The Soneva SLOW LIFE Trust for providing the funding.