Conclusion of Igauri Clinic Rainwater Catchment Project – Tanzania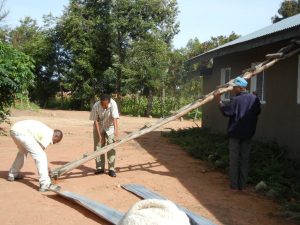 This project has been completed under the direction of Peace Corps Volunteer Danielle Korpalski.
To read about the beginning of the project, CLICK HERE.
The project was to build a rainwater catchment and storage system to establish a water source for the clinic.
Danielle reports:
The community members of Igauri are very excited to have received their first water tank ever in the village. Strategically located at the clinic, now the clinical officer, nurses and all the patients will be able to be cared for properly and have a safe drinking source.

The project only took 1 week to complete, and the rainwater catchment system has already begun to capture water. The 3,000 liter tank is right next to the clinic, so in a very convenient location to harvest the water.

The system has reduced the workload for the girls and clinic staff who once had to use much of their day fetching water from the well. The villagers are very thankful for the access to water and the ability to increase health and wellness.

The Village Executive Officer, in particular, sends his warmest thanks and appreciation for the contribution to his village.
We are grateful to Danielle for completing this important project, and again extend our thanks to Danielle's friends and family for providing the funding.