Conclusion of Idetero Pump Project – Tanzania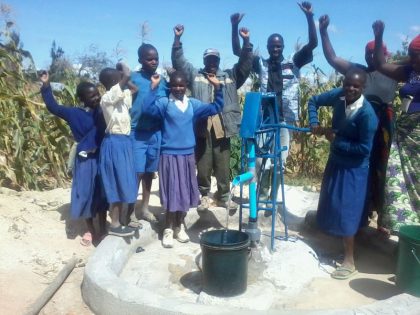 This project has been completed under the direction of Peace Corps Volunteer Alexander Jordan.
To read about the beginning of the project, CLICK HERE.
The project was to install a rope-washer pump on a deep well.
Alexander reports:
Everything was completed over the course of two days. The well expert arrived Friday and spent the whole day teaching and instructing villagers (mainly youths) in how to prepare the pump and the area around the pump.

Concrete was mixed, the old well crank was removed and the area around the old well was dug out and a new patio/slab of bricks was laid around the well. Cement was then applied to the slab.

Bwana Amasi, well expert, then instructed villagers in how the rope washers work, how to tie the ropes, how to mold the pipes (with a campfire), and how to connect the ropes and pipes.

The following day the well water, which became dirty over the course of the installation, was cleaned out over the course of several hours. Then the new pump was installed.

It was necessary to wait for about one week before using the well. Use was begun in earnest on Friday.

Many villagers are now able to access this reliable source of clean groundwater. They are now able to fill their buckets in less than 5 minutes, whereas before the installation, the same work would have taken up to 20 minutes or more. More importantly, the danger and fatigue that were inherent in the use of the old well have been removed. There is no longer a large hole that children can fall into and the labor required to use the new pump is minimal.

Furthermore, many village youths were able to learn about effective and relatively cheap water technology from a local Tanzanian expert.

This was a very successful water project! Thanks so much to all the Water Charity donors out there!!
We are grateful to Alexander for completing this project, and join him in thanking his friends and family for providing the funding.