Conclusion of ICT Center/Library Restroom Project – Thailand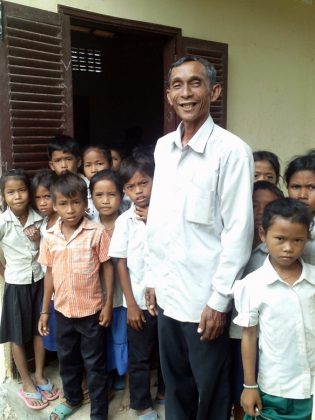 This project has been completed under the direction of Peace Corps Volunteer T.D. Nguyen. To read about the beginning of the project, CLICK HERE.
The project was to renovate a three-stall restroom at the back of the ICT Center/Library.
T.D. reports:
The three-stall restroom at the proposed ICT Center was renovated with the donation from Bang Duy Nguyen, M.D. of Seattle, WA via Water Charity and additional funds provided by the local administrative office.

Prior to its current condition, the restroom had been an unsightly and unsanitary structure. Paint was peeling off on its chipped exterior walls; the inner ones were tainted with urine and mildew which gave off strong odor. There were no sinks for hand washing. The roof of the structure had discolored and leaked when it rained. Old paving at the front of restroom collected water that formed large puddles that one had to either wade through or jump over. Wooden doors were old and had begun to rot from bottom up to reveal inner frames.

The renovation process was as follows:

The whole old roof was replaced with new panels.

Exterior walls: stripped of old paint, patched, then repainted.

Interior walls (half-length tiled walls): Stripped of old paint, patched, then
repainted; tiles cleaned, old caulk removed, new caulking applied.

New wooden doors: painted brown color, fitted, and installed.

Floors: old tiles from all three stalls removed and replaced.

Old toilet bowls were replaced with new ones.

Front areas of restroom elevated and cement-paved to prevent puddles from forming.

Two new sinks, faucets, mirrors installed along with piping system.

Old wiring replaced with more modern electrical necessities.

The ICT's restroom renovation project was delayed for one month due to holidays and personnel shortage. The newly renovated restroom along with the coming ICT center will serve to improve the lives of many residents, especially the younger of this more than 11,000 in population sub-district of Muak Lek, Saraburi.

The administration office and residents are very grateful of the generous help provided by Water Charity.
We in turn are grateful to T.D. for successfully completing this project, and to his father, Dr. Nguyen for providing the funds.