Conclusion of Hun Sen Chhouk High School Latrine Project – Cambodia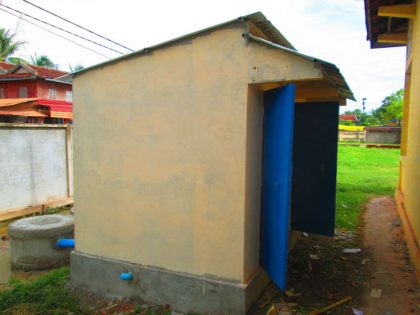 This project has been completed under the direction of Peace Corps Volunteer Bret Guderian. To read about the beginning of the project, CLICK HERE.
The project was to construct a set of latrines for students and staff.
Bret reports:
The latrines at Chhouk High School were completed in 5 weeks and are now ready to be used by the students and staff.

The latrines were placed near a block of classrooms. The construction started with laying the foundation for the latrines by outlining the foundation area with bricks. Next, two large holes were dug with the help of several students and teachers for the septic tanks that would be placed behind the latrines.

The septic tanks were built with pre-formed concrete rings, sealed with cement. Laborers filled dirt in around the outside of the tanks.

Additional laborers began constructing the wall around the latrines, and creating platforms for the toilet basins and containers or cavities near the back for water to flush the toilets.

The walls and interior of the latrines were completed in two weeks, followed by a short Khmer holiday. After the holiday, work was resumed with piping installed to connect the toilets to the septic tanks.

The walls were then covered with stucco. The last week of construction the corrugated aluminum roofing was put on, and finally the ceramic tiles were laid and the doors were attached.

The community helped support the project with small donations from the students and teachers.

Teachers and members of the community will be conducting lessons in handwashing and sanitation.

The director and students were very thankful for the new latrines, and the sanitation at the school has already improved. With students now able to use latrines instead of going home or to the nearest outside toilet, the director hopes to see an increase in attendance at the school.
We are grateful to Bret for completing this important project, and again extend our thanks to Bruce Kelsey for providing the funding.