Handwashing and Hygiene Program – Togo
This is a sub-program of our Water for Everyone Initiative – Liberia, Togo and The Gambia
COVID-19 is spreading in Togo.  The conditions are ripe for an outbreak, with close social contact, little knowledge and understanding about health and hygiene, and no consistent handwashing protocol.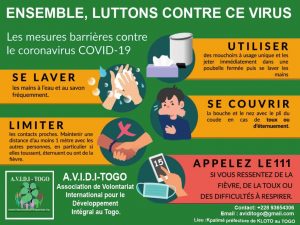 Our Water for Everyone Program is designed to bring access to safe water to everyone in Togo.  We make every effort to stay on mission and work consistently toward our lofty objectives, even when we encounter other urgent needs arising from poverty.  It was always our intention to bring along other partners to work in other program areas, such as sanitation, public health, food security, education, and employment.  However, the virus has emerged as a force to be immediately reckoned with which confronts us with life-and-death consequences which could dwarf other issues in comparison.
Frequent washing of hands in the proper manner for about 20 seconds has proven to be one of the most effective methods to slow down the spread of the virus.  New facilities are urgently needed to make this practical in Togo.  This solution is relatively inexpensive and can be deployed at once.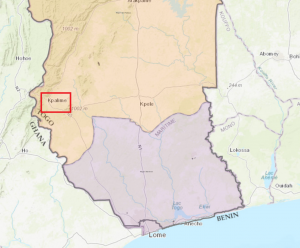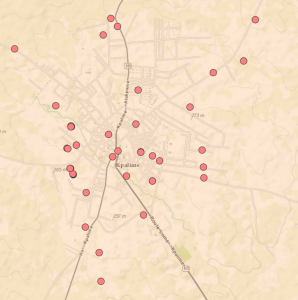 Consequently, we have begun a program to provide needed handwashing facilities and extensive training in hygiene and health in two regions.  We're starting in the Plateaux Region, working with our partner AVIDI, Association de Volontariat International pour le Développement Intégral AU Togo (roughly translated as Association of International Volunteering for Integral Development in Togo). AVIDI has been a vital partner of Water Charity, conducting half of our assessments of the water needs of the Plateaux Region.
Our work has started in the Kloto Prefecture of the Plateaux Region.  We have targeted 32 communities with about 90,000 people, and will begin to address their needs one-by-one, to the full extent of our resources.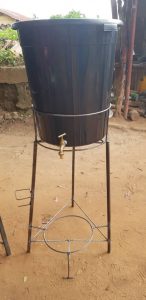 Handwashing stations will be fabricated and placed in public places. Each standard unit consists of a durable steel frame, a soap dispensing mechanism, and a plastic barrel with a valve.  Provisions for runoff are made with channeling and gravel.  In addition, a multi-unit solution to serve more people at a time can consist of one elevated water supply barrel plus several wastewater barrels over which hand washing takes place.
Each installation will be accompanied by health and hygiene training of the leaders and other occupants of the village to outline how germs are transmitted, the reduction in illness by proper practices, and the appropriate handwashing protocol.
The second part of this program will be conducted directly by the Water Charity team in the Maritime Region.  This team of young professionals has proven their competency in conducting the assessment throughout the country.  They remain cohesive, focused, dedicated, and committed to their country, and have been tooling up to begin the fabrication of handwashing units and the development and dissemination of training protocols.
In a selected prefecture of the Maritime Region, we will be building hand-washing units and preparing to deploy our team of about a dozen people.  These are all professionals who conducted the major part of our countrywide assessment.  They are all deeply committed to their country and honored to play a part in our work.  They are educated and trained in health and hygiene, and we are developing and disseminating the training protocol.
We will regularly update this page with new information.
Please contribute to this urgent program to the greatest extent possible by contributing to our Water for Everyone – Togo using this link.