Conclusion of Hamba Hamba Borehole Project – Malawi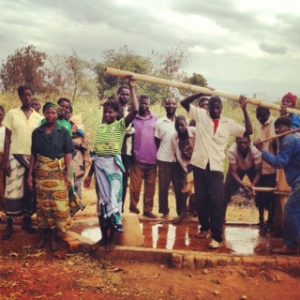 This project has been completed under the direction of Peace Corps Volunteer Kristi Mathis.
To read about the beginning of the project, CLICK HERE.
The project was to renovate the borehole in Hamba Hamba.
Kristi reports:
This project was completed July 6, Malawians Independence Day!

The community of Hamba Hamba gathered to help insert the pipes and rods of the borehole and the women in the community prepared a huge pot of nsima (Malawian staple food) in celebration.

Water Charity funding paid for most of the materials, including 10 rising main pipes, 6 pump rods, 1 cup seal, 1 fulcrum pin, 10 rod centralizers, 10 pipe centralizers, 100 yards of 6 mm rope, 1 cylinder, and 1 hanger pin.

The community contributed to the project by helping with labor and paying for a borehole maintenance committee to help with the more technical aspect of the project. They also had to transport all of the pipes from the main road nearly 20 km to get to the village, and this was done by three bike taxis paid for by the community.

The community also bought two 50 kg bags of cement to reconstruct the skirting and soak out for this borehole along with solvent cement to bind the piping together. This borehole had been "fixed" many times with limited resources, and some of the old pipes had been bound with other pipes over and over again, making the pipe centralizers continuously break. The ten new pipes will solve this problem and the borehole will provide water for many families.

The community was previously drinking water from a small pond that was unsafe and very small, and now will have clean water for many years to come. The chief and the borehole committee have been taking small donations from the households around the borehole and plan to use the money to fix future problems so they will not have to drink dirty water in the future.

The people from the village of Hamba Hamba are extremely grateful and appreciative of their now working borehole!!
We are grateful to Kristi for completing this project, her third in partnership with Water Charity.