Groupe Scolaire Sainte Famille Handwashing Station Project – Rwanda
Location
Nyarugenge District, Kigali, Rwanda
Community Description
Groupe Scolaire Sainte Famille has a long history of educating the children of Rwanda's capital, Kigali. Established in 1913, it is Kigali city's first school. Currently, the G. S.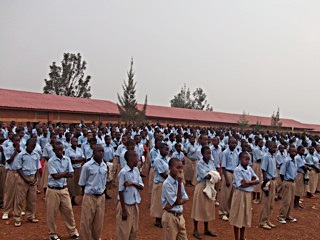 Sainte Famille is one of nine Basic Education Schools serving the Nyarugenge District of Kigali.
The school currently has nearly 3,000 pupils, roughly equally divided between boys and girls. Additionally, a caring, competent staff of seventy adults leads the school. This entire school population shares only thirty-four toilets.
Additionally, Sainte Famille graciously donates their space each Sunday for WE-ACTx's (Women's Equity in Access to Care and Treatment) Sunday Support Group for Youth Living with HIV. This group of approximately 175 youth, peer leaders and WE-ACTx staff meet for support groups and recreation.
Currently, there is only one tap on school grounds for hand washing. This tap is not located near any of the toilet blocks making it difficult to encourage proper sanitation among staff and students.
Project Description
This project is to purchase and erect twelve handwashing stations at locations near toilet blocks and throughout the school grounds.
The hand washing stations come fully assembled and include a metal stand. The 20-liter containers are made of plastic, and will be purchased from a local market in Kigali.
The containers will be filled regularly by the custodial staff. The school has access to the city water supply so the containers can be filled from that source.
Project funds will be used to purchase the containers and stands.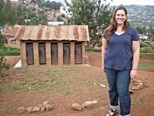 The Peace Corps Volunteer will provide hygiene lessons on the importance of proper sanitation and demonstration of good handwashing techniques to both the school and support group communities.
Project Impact
2,924 students and teachers at Groupe Scolaire Sainte Famille and the 175 youth who participate in the weekly WE-ACTx Sunday Support Group will benefit from the project.
Peace Corps Volunteer Directing Project
Anna Cowell
Comments
Handwashing has been proven to be the single most important behavioral change in the reduction of diarrheal disease. This project will promote hygiene and sanitation for all students, staff and visitors at the Group Scolaire Sainte Famille.
Dollar Amount of Project
$300.00
Donations Collected to Date
$300.00
Dollar Amount Needed
$0.00 – This project has been fully funded through the generosity of Six Senses Resorts & Spas as a part of their Clean Water Projects initiative.
We encourage others to continue to donate using the Donate button below, and we will notify Peace Corps Volunteer Anna Cowell of your donation. Additional funds will be used to fund the next project by Anna and/or those of other PCVs in the country of service.

This project has been finished. To read about the conclusion of the project, CLICK HERE.