Conclusion of Golden Fish Kindergarten Water Filtration Project – Ukraine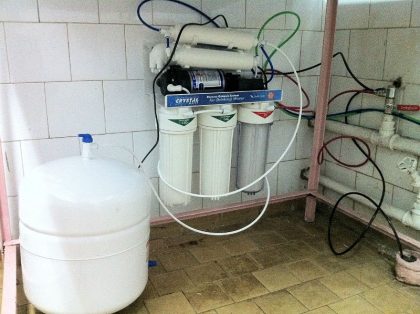 This project has been completed under the direction of Peace Corps Volunteer Blakely Neff. To read about the beginning of the project, CLICK HERE.
The project was to install a five-step reverse osmosis water purification system to provide safe water for the children at the Golden Fish Kindergarten.
Blakely reports:
The filter was installed according to the project plans shortly after the beginning of the year in a safe location in the kitchen of the Golden Fish Kindergarten. It has been providing clean, safe, drinking water for the children since then.

An article was written in the local newspaper about the filter project. It mentioned Appropriate Projects and its contribution to the project.

The rayon administration (local government) discussed the project in meetings, recognizing the contribution to providing safe drinking water for the children.

We had enough money to buy a replacement filter for the near future. Going forward, the parents of the school and local administration have committed to raising additional funds to pay for upkeep and maintenance so that the filter will continue to provide clean water well into the future.
We extend our thanks to Blakely for completing the project, and again extend our gratitude to Hack & Slash who, along with a bit of help from Blakely's friends, provided the funding.