Conclusion of Go Samut Kampong Chak Primary School Handwashing Station Project – Cambodia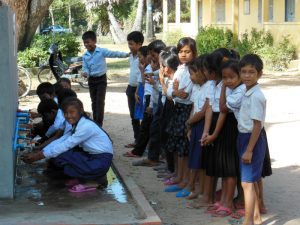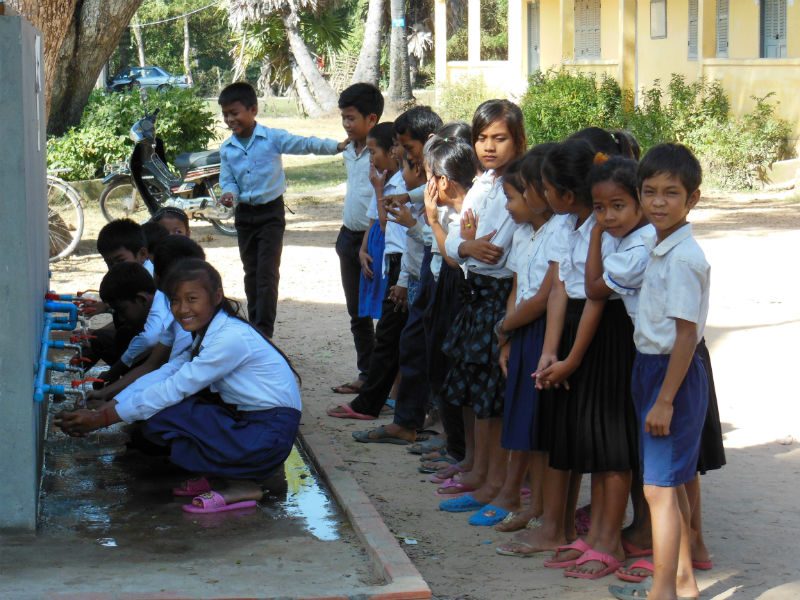 This project has been completed under the direction of Peace Corps Volunteer Christopher Donnelly.
To read about the beginning of the project, CLICK HERE.
The project was to build a handwashing station at Go Sanut Kampong Chak Primary School.
Christopher reports:
This project has been completed. The Go Samut Primary School now has a working hand-washing station.

Construction began as soon as the funds were made available, but unfortunately some setbacks delayed completion. Among these, most regrettably, was vandalism and theft of materials. This caused increases in costs of approximately $50 which then had to be raised by the community. Fortunately, the school director was invested enough to make this happen, and I am glad to say that the only thing that remains to be done is painting, which will be done next month with school funds. Further cosmetic improvements will be made over time.

Throughout each stage of the construction of the handwashing station, the school faculty and students played a very large part in the work done. The director and I purchased the bricks, cement, pipes, wood, metal and taps that were needed. These were delivered to the street and dropped off in front of the school. Each of the over 600 students in the school then carried a small amount of bricks on their bicycles and by hand across the schoolyard to the project site.

The masons performed most of the construction while the faculty delivered water, cement mix, and sand, and mixed the cement. Following the completion of the structure, the faculty installed the pipes and taps and, following the vandalism thereof, fixed and installed the necessary replacements.

Upon completion, we have begun teaching handwashing lessons with the handwashing station. In addition to teaching hygiene, the lessons are intended to make the students feel more comfortable using the new station. So far, the students have enjoyed using it.

We would like to say អរគុណច្រេីន (Awgun Jrown), which means "thank you so much" in Khmer. The school and the community appreciate your generous help. It will help improve the hygiene and health of the children in this community and serve as a model for the surrounding schools and the community itself.
We are grateful to Christopher for completing this project, his third in partnership with Water Charity, and again wish to thank Hack & Slash for providing the funding