Gjimnaz Ramiz Aranitasi Water and Bathroom Project – Albania
This project is made possible through the partnership of Water Charity and the National Peace Corps Association.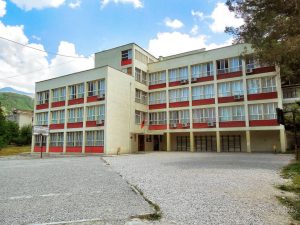 Location
Çorovodë, Skrapar, Albania
Community Description
Gjimnaz Ramiz Aranitasi is the only high school in Çorovodë and it contains approximately 450 students and 30 staff members. For the nearly 500 people that attend school there are a total of nine-bathroom stalls (though three stalls do not function at all), and three small sinks. Three stalls for males (though one does not work) and six for females (though two do not work). The High School was recently renovated, but the bathrooms were left out of this renovation.
Problem Addressed
The bathrooms lack certain resources necessary to ensure a hygienic experience. Aside from the lack of soap and toilet paper, the Turkish toilets do not have a direct connection to running water.
Project Description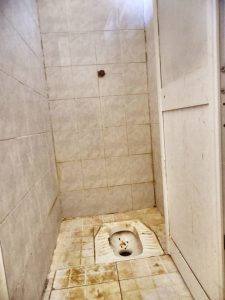 The objective of this project is to fix six of the bathroom stalls so that they have a direct connection to running water and to provide initial supplies for the bathroom, including soap and toilet paper. The 25% community contribution will come from the Bashkia and the potential impact of this project will make the bathroom experience for teachers and students more hygienic and overall, more enjoyable.
Project activities include collaborating with community members to implement the renovation of the toilet stalls and working with the teachers to educate students in practicing respect for their hygiene and for the bathroom.
Project Impact
500 people will benefit immediately with that number growing as time goes on.
Peace Corps Volunteer Directing Project
Alayna Côté
Monitoring and Maintenance
The school cleaning staff, students, and teachers will be responsible for monitoring and maintenance.
Comments
While this is not an official Let Girls Learn project, it does fall into Water Charity's LGL+ grouping of projects that have a pronounced element involving helping girls go to, and stay in, school.
Dollar Amount of Project
$700
Donations Collected to Date
$155
Dollar Amount Needed
$545
ADOPT THIS PROJECT BY CONTRIBUTING THE DOLLAR AMOUNT OF PROJECT
Donations of any amount will be appreciated. The full amount will allow you a posted dedication, if that is something you would like.
This project has been completed. To read about the conclusion, CLICK HERE.