Gbessakperou Health Center Electrification Project – Benin
This project is made possible through the partnership of WATER CHARITY and the NATIONAL PEACE CORPS ASSOCIATION.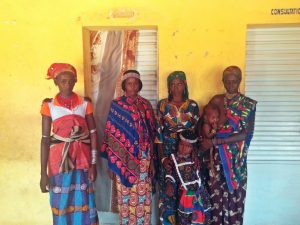 Location
Gbessakperou, Dunkassa Arrondissement, Kalale Commune, Borgou Department, Benin
Community Description
The village of Gbessakperou comprises a greater area of nearly 4,000 rural farmers. The population is largely under-educated due to the shortage of primary schools and complete lack of secondary schools. There are two primary languages spoken in the village, Bariba and Fulfulde.
The climate is semi-arid and deforestation for farmland is a big environmental challenge. Every year, more forest is burned or chopped down to make room for farmland for the growing population.
The village is majority Muslim, though there are sizable Roman Catholic and Assembly of God minorities.
There are only three pumps and one deep well in the whole village, which results in people often drinking unsafe water from shallow, uncovered wells.
The village has the only health center for 16km in any direction which means that people from smaller villages and hamlets are forced to travel, often on foot, to Gbessakperou for routine vaccinations or emergency care.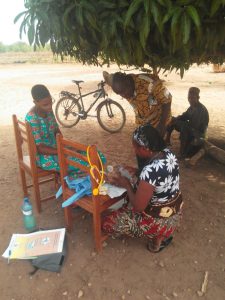 Problem Addressed
The health center of Gbessakperou serves a greater area of nearly 4,000 rural farmers. Because of the lack of education, it is difficult to find opportunities to educate residents on the importance of giving birth in a health center or of having their children vaccinated. The onus lies on the health center staff to engage in outreach activities to ensure that outlying communities are served. Unfortunately, the health center is very minimally staffed and, like all buildings in the area, lacks electricity.
The lack of lights disincentivizes people from seeking care or treatment at the health center after dark. This is especially applicable to women giving birth who would often rather give birth in the home than walk to the health center after dark.
Project Description
The goal of this project is to outfit a rural health center with solar panels in order to provide lighting, as well as a refrigerator in which to store cold packs and vaccines.
Three 150-watt solar panels will be bolted to the roof of the health center. They will be used to charge four 100 AH C/20 solar batteries. This will provide electricity for up to 20 hours between charges.
The system will power 15 LED lights with sockets and switches, plus the refrigerator.
Water Charity funds will be used to purchase the fixtures and materials, and to pay for skilled labor.
The community contribution will consist of labor and hard cash fundraised by each community served.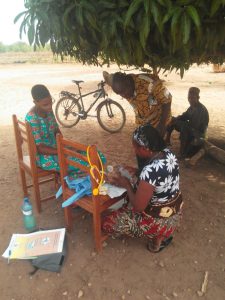 Project Impact
4,000 people will benefit from the project.
Peace Corps Volunteer Directing Project
Nicholas Theyerl
Monitoring and Maintenance
A plan will be developed to generate income from the refrigerator and power supply. This may include selling cold drinks and charging electronics for a small fee, which will be saved and used for maintenance and repair.
Comments
Better lighting will improve health outcomes for all people served, including women giving birth at night, and anyone else needing emergency treatment after dark. The refrigerator will allow cold packs and, crucially, vaccines to be stored on-site which will allow the health center to more reliably serve outlying communities.
Fundraising Target
$2,900
Initial funding was advanced by an anonymous donor. Funds raised in excess of the project amount will be allocated to other projects in the country.
Donations Collected to Date
$0
ADOPT THIS PROJECT BY CONTRIBUTING THE DOLLAR AMOUNT OF THE PROJECT.
Donations of any amount will be appreciated. The full amount will give you "naming rights", if that is something you would like.
Dollar Amount Needed
$2,900