Garada Intella Kebele Water Project – Ethiopia
This project is made possible through the partnership of Water Charity and the National Peace Corps Association.

Location
SNNPRG region, Dawro zone, Gena Bossa district, Ethiopia. The project will specifically be in the village of Garada Intella Kebele.
Community Description
Dawro is one of the 14 zones in SNNPRS. The administrative center and capital of the zone is Tarcha, which is situated about 495 kilometers Southwest of Addis Ababa and 342 kilometers away from the capital of SNNPRS (Hawassa) to the West. The zone was structured in October, 2000, with the population size of 600,102 across five woredas (Mareka, Loma, Gena Bossa, Tocha & Issera and Tarcha) and one town administration. The zone has a diversified agro-climatic region including highlands, mid temperate, and lowland with the altitudinal variation ranging from 550 meters to 2,820 meters above sea level.
Garada Intella is one of 36 rural kebeles in Gena Bossa District, with the total population size of 744 across four villages. Many obstacles make it difficult for these communities to get a potable water supply, proper quality education facilities, basic health services and livelihood facilities.
The people of the project areas are extremely disadvantaged and marginalized. As a result, the people live in severe poverty; and women and children in particular have faced the greatest hardship.
Problem Addressed
The people of the area have little or no access to potable water. The extent of the problem required that government and non-state participants, such as Dawro Development Association, identify water development and sanitation as one of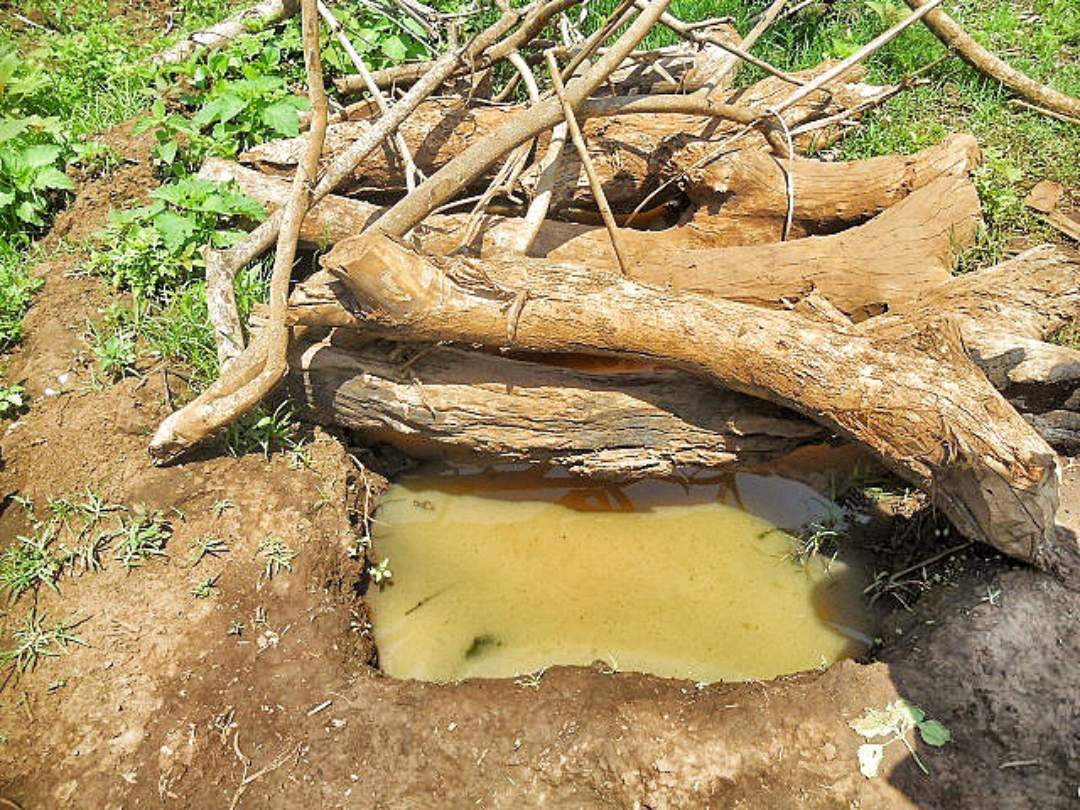 the key priorities in Gena Bossa District, particularly in Garada Intella Kebele, where you find the most marginalized areas in Dawro zone. These villagers are in the worst situation to access potable water and basic sanitation services.
Currently, the coverage of potable water supply, sanitation services and access to clean, safe water in Garada Intella is basically non-existant. As a result, almost all community members in the area are obliged to depend on unsafe water sources such as rivers, ponds and unprotected springs full of algae that increases exposures to various types of rampant waterborne diseases, and at the same time increases the workload of women and children who commonly fetch water from long distances. The water supply and sanitation services have been poor and worsening in the proposed villages.
Currently, all the villages of Garada Intella Kebele have no developed and protected water systems. This project is predicted to reduce the incidence of waterborne diseases from the 98% to 40%, and increase safe water coverage from 0% to 38.40% in the Kebele. Consequently, women and the larger community will be able to live a healthy and more dignified life.
Project Description
This project is planned to develop and protect two water sources in one village of Gena Bossa District. The components of each spring development and protection plan include capping, water point with two faucets and gates valves, cattle trough, and washing basins.
The two springs are in close proximity but the flow from each, while adequate, is not great enough to sustain the necessary flow. The general area of this project is hilly and partially forested. The soil is firm with small rocks. There is a total of 200 meters of 50 mm pipe needed to connect the two small springs with the reservoir and the two separate public taps. Similarly, the elevation difference is small. The PVC piping is readily available, and the pipe will be buried two feet underground for sustainability.
A reservoir or storage tank will be built. The water flow has been determined to be 0.08 liter per second. This is equal to approximately 3 cubic meters of collection over the usual 12 hours of darkness each day. If the project costs come in lower than estimated, the reservoir will be increased to 5 cubic meters. Total water flow per day is 6,800 liters or 9.3 liters per person.
The major activities of this project include:
* Creating awareness among the communities regarding water issues
* Mobilize the communities to supply local materials, their labor, and money
* Establishment of water and sanitation management committees
* Provide training for water management committees for each newly constructed water point. A training will be given for seven water management committees on the topics of sanitation, hygiene, use of water, and maintenance at the center of Gena Bossa District (i.e. Qarawo at the end of May, 2016)
This project will undertake construction of two water sources, monitor and evaluate the process of implementation, and hand over the completed project to the respective communities and the Woreda Water Resource Development Office. This is a rural community-based water project, which addresses urgent needs of the communities. The project will support numerous demand-driven, small-scale projects led by the community.
Project Impact
The direct beneficiaries of this project are 150 households with total population of 744 people, as well as everyone who visits or passes through this area.
Returned Peace Corps Volunteer Directing Project
The project is being directed by Bob Gausman, President of the Central Highlands Foundation, who served as a Peace Corps Volunteer in Ethiopia.
Monitoring and Maintenance
Dawro Development Association will be responsible for the implementation and management of the project. The main office of Dawro Development Association with its branch office in Gena Bossa District will be responsible for community mobilization at grass root level. It will also actively participate in project monitoring and evaluation as preparing and submitting physical and financial reports of the project to the respective concerned bodies on regular basis.
Comments
This project promotes a community-led development approach that puts emphasis on instituting an enhanced role for the community in water management and sanitation service sustainability. It will engage local administration and the District Water Resource Development Office to play a supportive role and set directions in strong stakeholder participation, pro-poor emphasis and gender sensitivity. This project also takes a key development approach to ensure sustainability, women's empowerment and the integration of water services within the water management framework.
The project is anticipated to have an expanded replication effect beyond the water sector to other development interventions and practices, the results motivating communities and local administrations in neighboring Kebeles in the Zone. Its financial and economic affordability and social acceptance, in addition to the fact that it is owned and managed by communities, particularly women's groups, is also assurance to its sustainability and explicability.
It is the hope that this project will decrease child mortality rates due to the use of unprotected water and that families in the villages will adopt hand washing before and after eating.The community participation is crucially important for cost sharing, but also for the sustainability of the project. As a result, the communities targeted with this potable water supply & sanitation services project will actively participate at each stage of the project cycle management from identification to evaluation. They provide labor, local material and money. They are also responsible for the proper handling of the established water points.
The added value of this project is to create water management committees and establish water supply, sanitation and hygiene committees at local levels. Also, arrangements will be made to involve a broader range of stakeholders including grass-root communities in designing and implementing water supply, sanitation, and hygiene practices.
This project has been funded by an anonymous donor. If you want to help us do more projects of this type, please contribute to our East Africa Water and Sanitation Program.