Fultang Health Center and School Water Project – Cameroon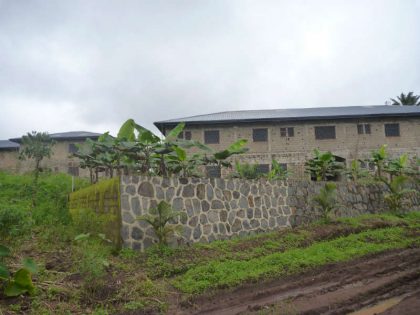 Location
Nkongsamba, Manenguba Division, Littoral Region, Cameroon
Community Description
Nkongsamba is a city with a large population that is spread over a vast land area. The beneficiary community is located in Quarter 5 and is predominately farmers. They are a wonderfully hospitable people and have an incredible work ethic.
Quarter 5 is also sometimes referred to as Mbaressoumto by the local population.
The Fultang Foundation Hospital is a health center that offers a number of services including laboratory services, emergency services, maternity, pediatric, ORL, physiotherapy, and even has an operation theater.
Directly across the road, not more than 50 meters away, is the Fultang Bilingual High School.
Recently the community raised funds to build a clean water catchment some 500 meters from the clinic and high school, and it became their primary source of water. The catchment water is potable without treatment, as it is natural spring water that is running through rock and sand filters that were built into the catchment.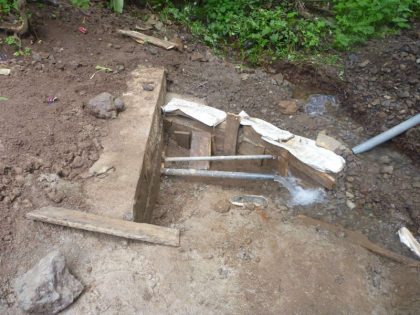 Problem Addressed
With the current location of the clean water catchment, the majority of the population has to walk at least 500 meters uphill to collect water. Piping the water to a second tap near the school and clinic would make it both safer and easier for all community members to obtain clean drinking water.
Project Description
This project will install a water pipeline 500 meters from the location of the catchment to the health clinic and school.
The process will involve digging a trench and laying pipes, and connecting to the water supply. The unskilled work will be done by community members.
Size 40 galvanized pipe will be used, rather than PVC, for strength and longevity. The taps will be simple solid taps with size 32 pressure pipes leading into them, and will be installed by a local plumber.
A simple concrete base will be built by a local technician around the taps to ensure proper drainage so as to eliminate any standing water that might breed mosquitoes.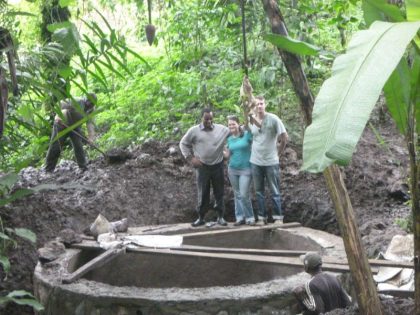 Water Charity funds will be used to purchase the materials, including cement, pipe, fittings, and fixtures.
Project Impact
Approximately 1,500 community members, plus the 500 students and staff will benefit from the project.
Peace Corps Volunteer Directing Project
Shaun Willis
Comments
This is an important infrastructure project that will improve the health and well-being of the large number of people who will gain easy access to safe water.
Dollar Amount of Project
$555.00
Donations Collected to Date
$555.00
Dollar Amount Needed
$0.00 – This project has been fully funded through the generosity of the Ricky Olson, of Deer Park, WI, USA.
We encourage others to continue to donate using the Donate button below, and we will notify Peace Corps Volunteer Shaun Willis of your donation. Additional funds will be used to fund the next project by Shaun and/or those of other PCVs in the country of service.
This project has been completed. To see the results, CLICK HERE.